Time-travelling adventure to meet a new musical instrument!
---
We went on a time-travelling adventure yesterday. Ok, ok, it wasn't exactly an adventure, but just a regular trip to the past. It is pretty easy and normal, you get a ticket for that time machine, take a seat and adjust your seatbelt - just in case, as it can go fast (it depends on how many years you want to go back in time). I have chosen a few centuries (don't remember the exact date anymore, I think there were some turbulences in that ride that shook my mind) and landed in the middle of a traditional market. While walking in the narrow streets and smelling the freshly baked bread a strange noise came to my ear. I swear, I have never heard that sound before.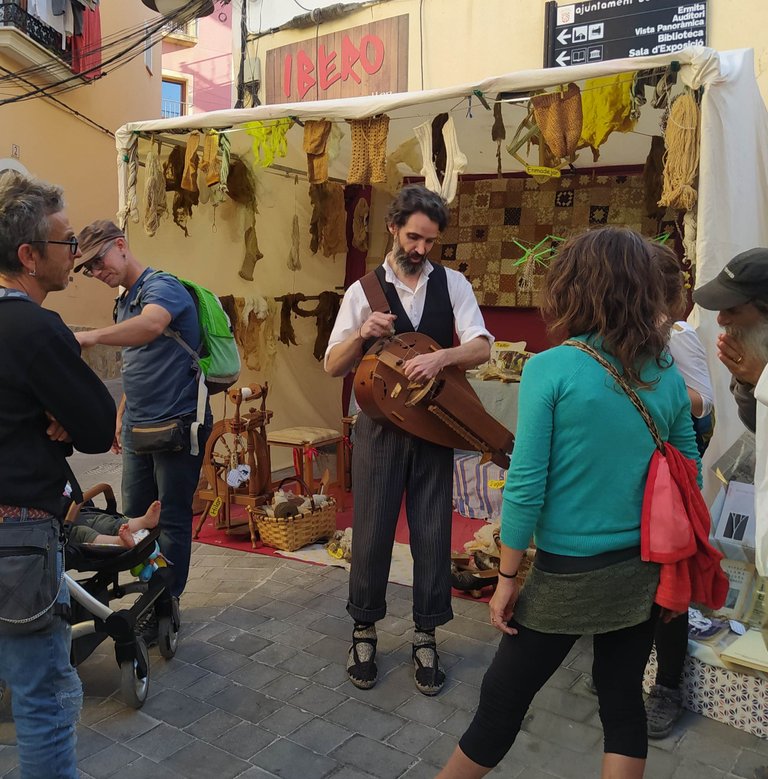 My eyes also got the confirmation - something was happening there... a group of people surrounded a man, dressed in a traditional way and of course, according to the year when all of this happened. He seemed young when he was smiling, but then I saw the silver beard. An experienced storyteller was standing in front of us explaining how he got each of the tools from his workshop. Also, he was explaining about the object he was holding in his hands. It was a musical instrument, apparently, but I had to ask him at least twice about the name of the same.
Zanfoña - in Spanish... which would be Hurdy-gurdy in English (it can be also called wheel fiddle).
But he insisted on the Valencian name of the instrument - Viola de roda.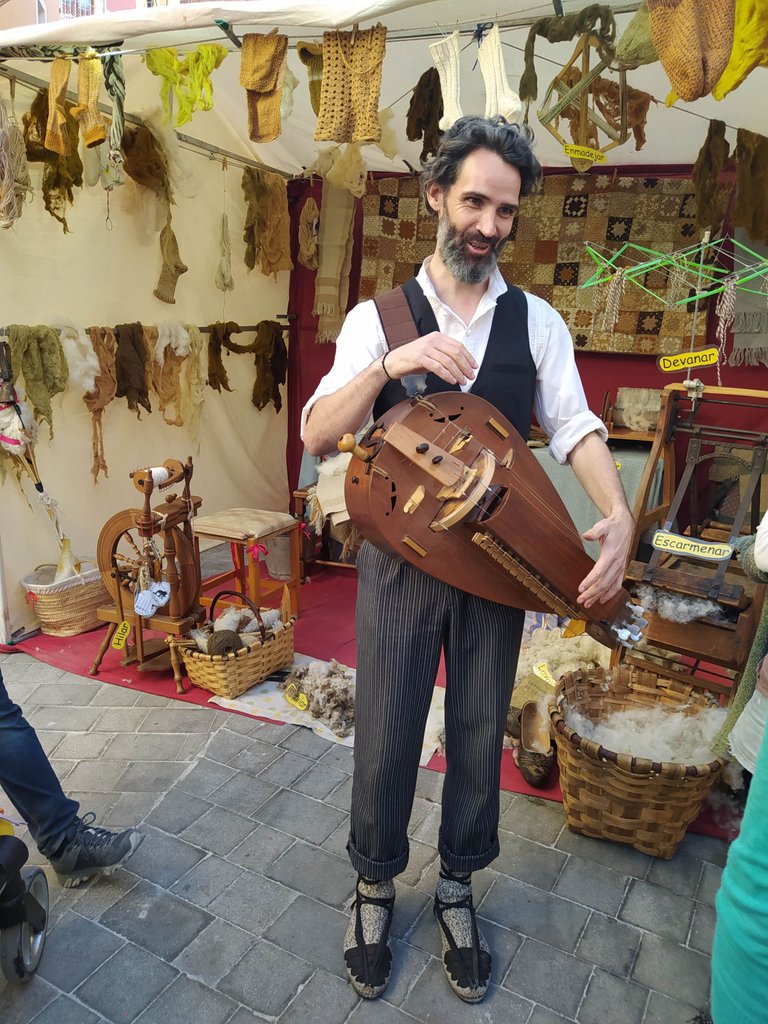 Rodar would mean to roll, as he said to me in his attempts to explain to me better about the origin of the name. You roll that little handle, which makes the wheel turn. It consequently rubs the strings and we hear the sound.
He continued with a lot of dedication: There are little keys, like on the piano, but first, the black keys come and then the white. Also, low and high notes go in the opposite direction than on the piano.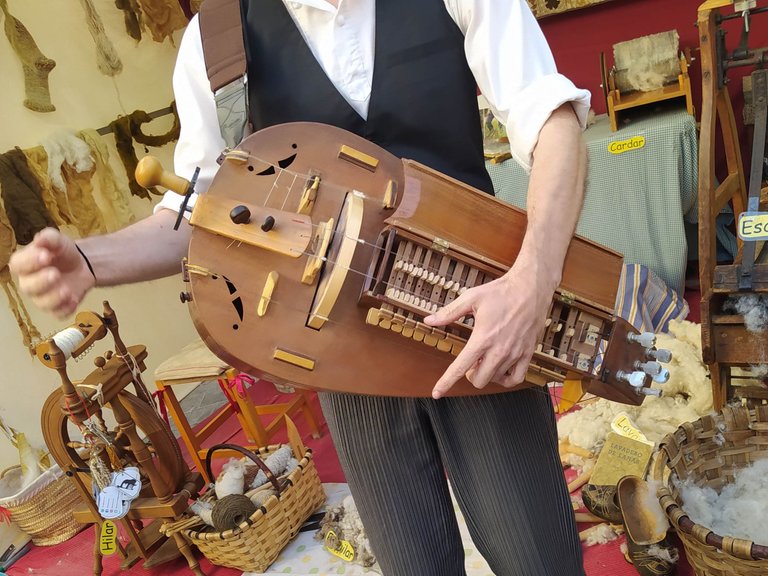 Then he explained about the strings, how you can tune them, the little tangents that are attached to the keys and how they change the length of the string (which changes the pitch of the note... like in the guitar for example), and a lot of other details. It was the very first time I was seeing this musical instrument in my life and remembering everything about it was not easy. The music that came out of this wooden box can't be forgotten, though. I hope you can also hear it when you press the play button of the video from this post.
After some time we said goodbye to this man and thanked him for being so kind and explaining to us all about the hurdy-gurdy. However, just two streets away from this stall different music passed by us. Yes, that music passed by us, literally.
A group of musicians also dressed in a traditional way walked down the street while playing some kinds of wooden wind instruments, bagpipes and percussions.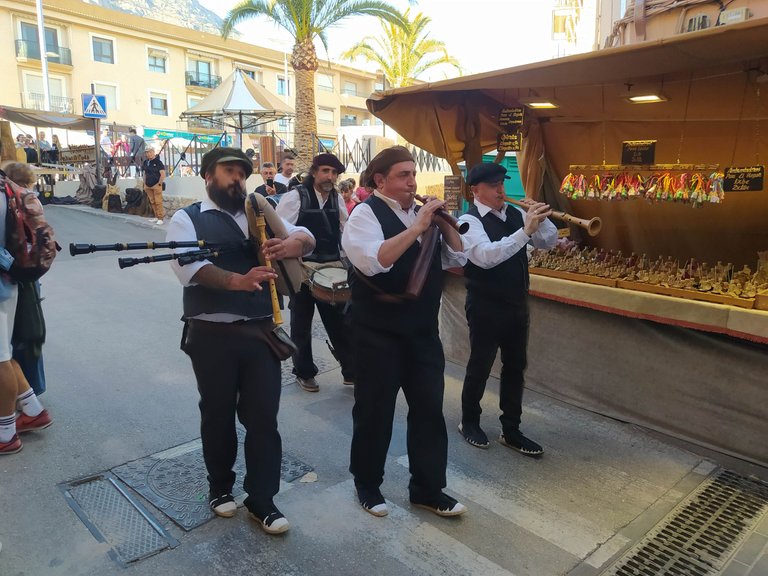 The bagpipes were so cool to see!! Well, I don't know about you but seems that I had to go back in time to see from close these musical instruments.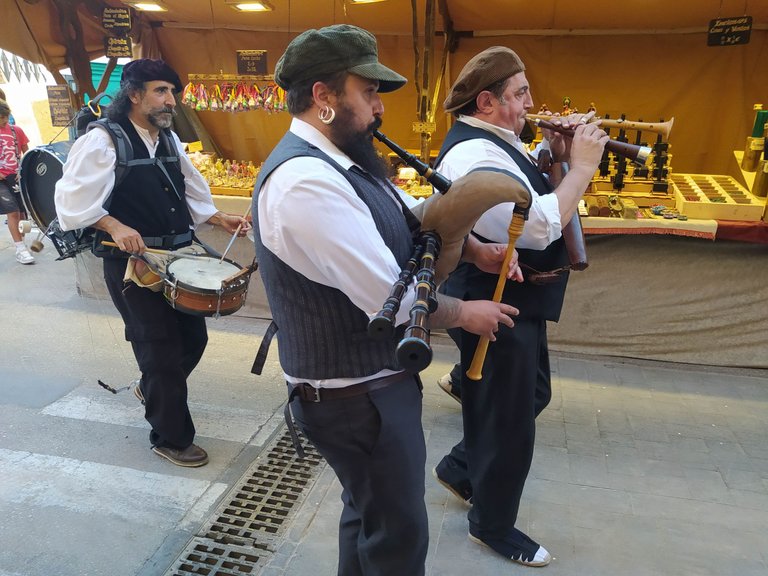 Btw, they were very funny and entertaining, in one moment they started to sing, not in the way nowadays we could call singing... But why I am still talking and taking your time? Wouldn't be nicer if you would also just listen to them and have some fun? I was laughing a lot listening to them 😂, they definitely are good entertainers! So funny people and the walking performance they did!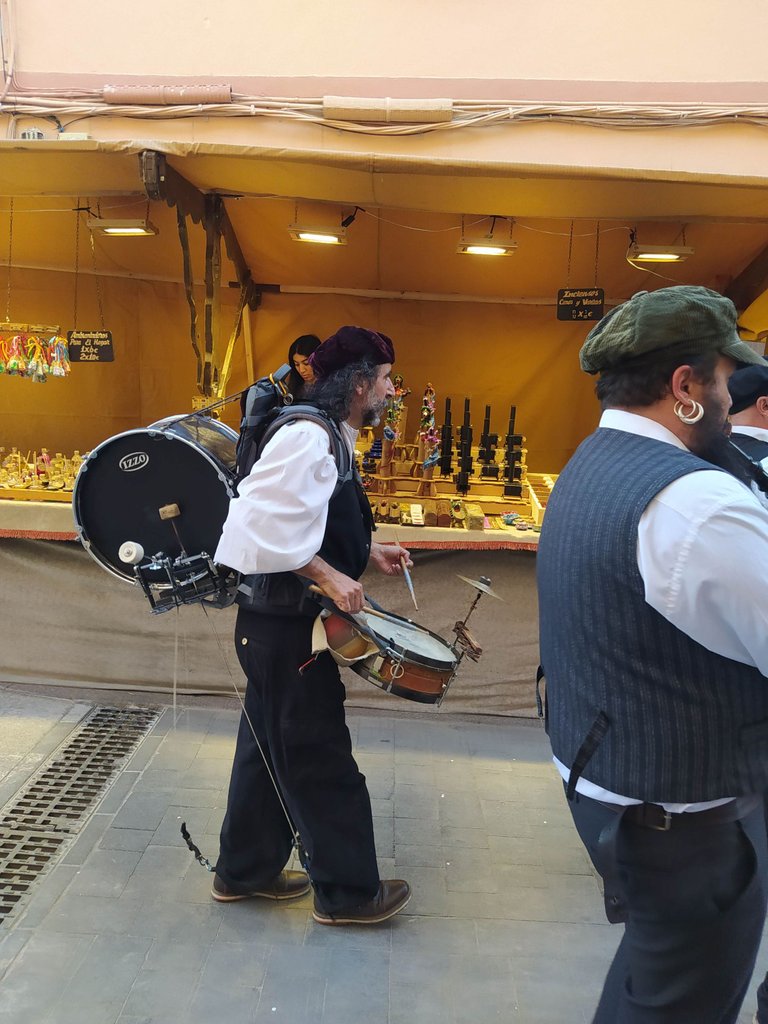 But don't forget to return to the present... I hope you didn't take just a one-way ticket for this time machine at the beginning of this post.
Enjoy the music, the experience and the ride in time!

---
▶️ 3Speak
---
---