Now Following All Hive Power Delegators!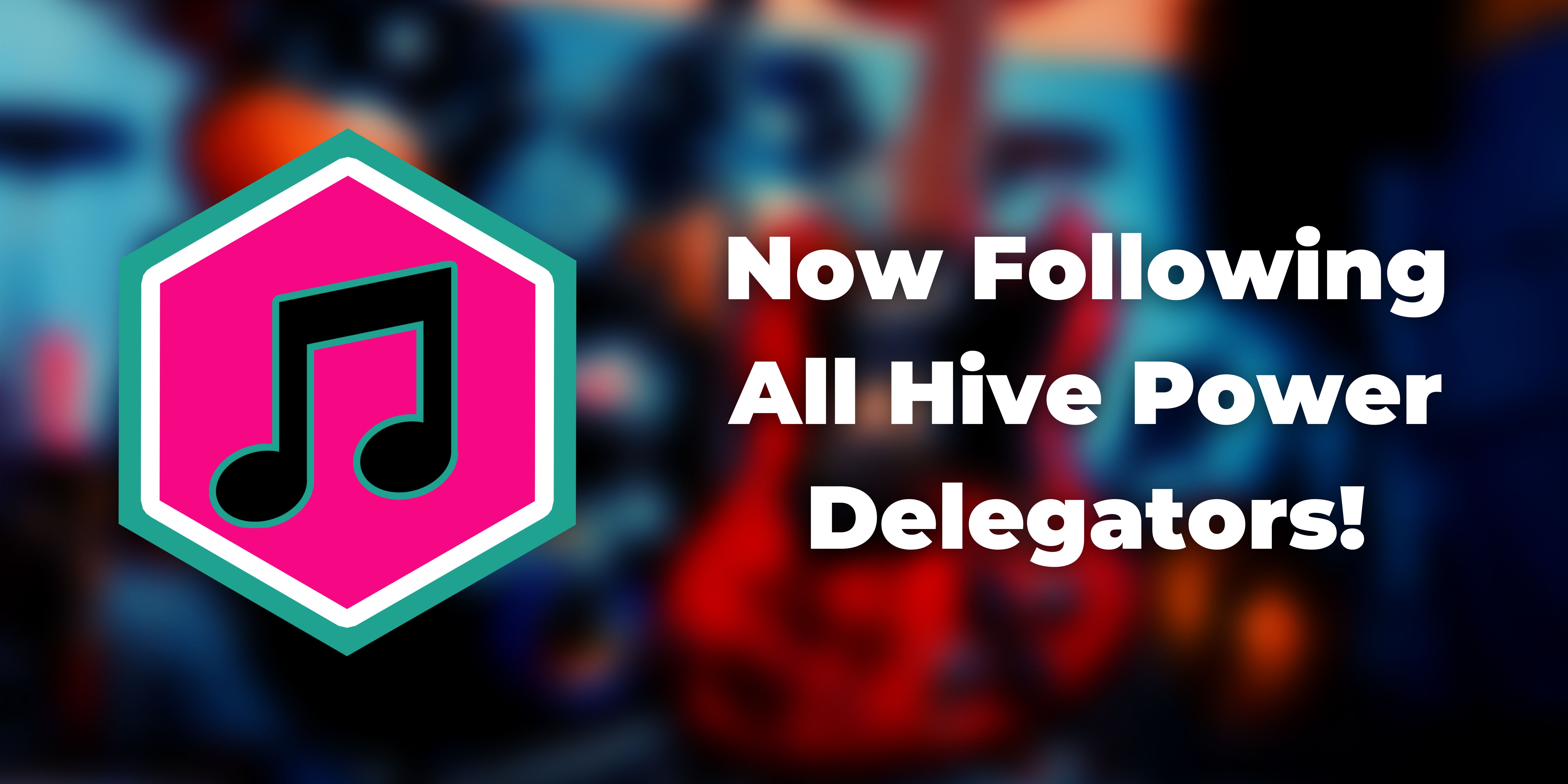 Delegating to @blocktunes and the @blocktunesdao has bonuses for not just musicians and the greater music community as a whole, but it also benefits those delegating in more ways than one!
If you delegate to either BlockTunes account, the main account will also follow you as well as set up an automatic post follows that is tiered based on your delegation. This is a way for us to give back to those that are helping us grow in more ways than with MUSIC tokens! This is all done through Hive.vote.
Tiers For Delegation Follow Auto Voting
The automatic voting percentage is based on the amount of Hive Power you have delegated. The higher the delegation, the higher the percentage upvote, and more votes throughout the week!
1-49 HP- 10% Vote power - 2 per day 2 per week
50-99 HP- 20% Vote power - 2 per day 2 per week
100-499 HP- 30% Vote power - 2 per day 4 per week
500-749 HP- 40% Vote power - 2 per day 6 per week
750-999 HP- 50% Vote power - 2 per day 6 per week
1000-2499 HP- 60% Vote power - 2 per day 10 per week
2500—4999 HP- 70% Vote power - 2 per day 10 per week
5000—7499 HP- 80% Vote power - 2 per day 10 per week
7500-9999 HP- 90% Vote power 2 per day 10 per week
10,000+ HP - 100% Vote power - 2 per day 10 per week
Below is a screenshot of the current delegators and the voting power we have behind them on autopilot. NOTE: This does not include manual voting or voting behind other curation trails.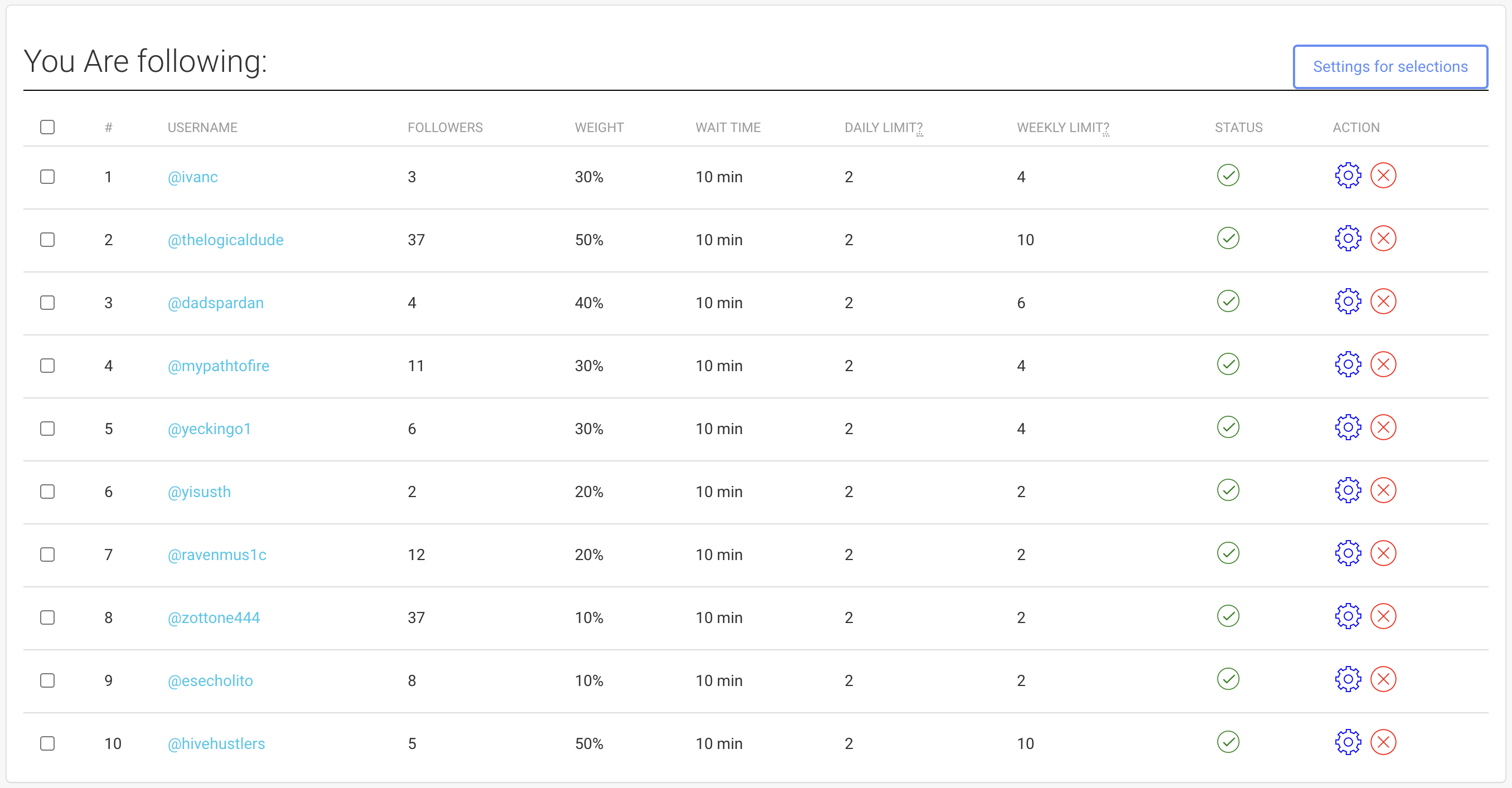 Again, this is our way of saying thank you to those that delegate to us! We will be doing a weekly audit of the delegation list and adjusting the percentages accordingly. If you remove your delegation, we remove the auto-voting.
Edit: Based on feedback, we are making this an experimental feature. If we find that we are voting on low grade content from your account, we will remove the auto vote and manually vote your content as we see fit. If it becomes a bigger issue we will discontinue the auto-vote entirely.
Building A Bigger Music Community Through Voting Power
We are doing this all for the greater music community because music and supporting independent musicians is our passion! This is our way of giving back to the world we love in a new and exciting way!
If you are a musician, come join our community on Hive and earn some MUSIC tokens on top of Hive and HBD! Stake your MUSIC tokens and earn future rewards from our DAO or use them to purchase MUSIC NFTs from our marketplace on Hive!
If you want to step up your game, look into starting a BlockTunes PRO account on our main site and get more benefits such as minting access to our advanced Polygon based NFT Marketplaces, your own online retail store, artist bio page, music file hosting, and more!
Whether you go PRO or not, if you have music you want to release to the mainstream platform, we can help with that as well with our Worldwide Music Distribution service!
Check out https://blocktunes.net for all the information!
Join The Independent Music Revolution
NFT MARKETPLACES | WEB 3 MUSIC SOCIAL MEDIA | WORLDWIDE MUSIC DISTRIBUTION
BUILT USING THE HIVE AND POLYGON BLOCKCHAINS
Support by voting for the @blocktunesdao Hive-Engine Witness with WORKERBEE stake at Tribaldex
Delegate Hive Power to either @blocktunes or the @blocktunesdao and earn 0.05 MUSIC tokens for every 1 Hive Power delegated, plus receive tiered automatic votes and a follow from the @blocktunes account!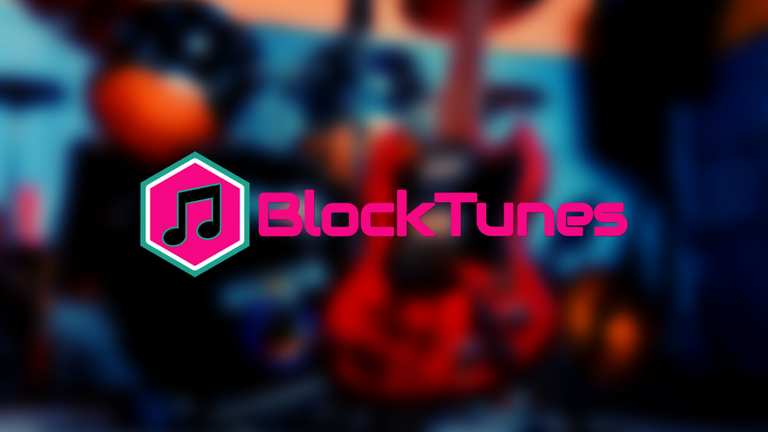 Posted using BlockTunes
---
---