Hive Open Mic Week #188 | A Million Dreams (Cover) by @yisusth [ENG/SPA]
---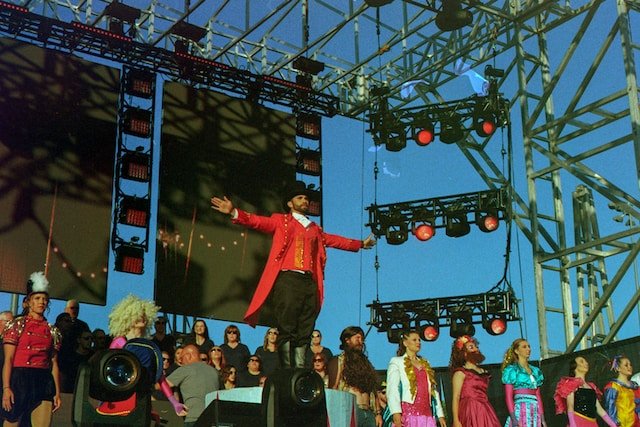 Foto de Kyle Smith en Unsplash

Welcome to my music blog. I am happy to participate in the Hive Open Mic of Week #188 and to have been selected as the recent featured artist in the community. The expression "fly and dream" has a positive meaning, which is associated with freedom, creativity and hope. We all have that desire for freedom, to escape the restrictions of everyday life. We also want to improve ourselves and achieve our goals and objectives. Music is my passion, it allows me to fly and dream. Our world needs dreamers like you and me. Don't give up, you can achieve your dreams. Today, I share with you my trumpet performance of "A Million Dreams," a pop song composed by Benj Pasek and Justin Paul, and performed by Hugh Jackman, Michelle Williams, and Ziv Zaifman in the musical film The Greatest Showman. The lyrics talk about the power of love and dreams. It reminds us that even when life presents us with challenges, we can still find joy and hope in the connections we make with others. It is a reminder that we should never give up on our dreams, no matter how big or small they may seem.
Bienvenidos a mi blog musical. Me siento feliz de participar en el Hive Open Mic de la Semana #188 y por haber sido seleccionado como el artista destacado reciente de la comunidad. La expresión "volar y soñar" tiene un significado positivo, que se asocia con la libertad, la creatividad y la esperanza. Todos tenemos ese deseo de libertad, de escapar de las restricciones de la vida cotidiana. También queremos superarnos, y alcanzar nuestras metas y objetivos. La música es mi pasión, me permite volar y soñar. Nuestro mundo necesita de soñadores como tú, y como yo. No te rindas, tú puedes lograr tus sueños. Hoy les comparto mi interpretación con la trompeta de «A Million Dreams» una canción pop compuesta por Benj Pasek y Justin Paul, e interpretada por Hugh Jackman, Michelle Williams, y Ziv Zaifman en la película musical The Greatest Showman. La letra habla del poder del amor y los sueños. Nos recuerda que incluso cuando la vida nos presenta desafíos, aún podemos encontrar alegría y esperanza en las conexiones que hacemos con los demás. Es un recordatorio de que nunca debemos renunciar a nuestros sueños, por grandes o pequeños que parezcan.
The melody is progressive and uplifting, reflecting the limitless nature of dreams. The key of the song, G major, is associated with feelings of optimism, joy and hope. The harmonic progression, characterized by simple major chords, creates a sense of familiarity and comfort, while occasional chromaticism adds a touch of emotional depth. Its dizzying melody, heartfelt lyrics, and powerful voice make it an unforgettable anthem of hope and inspiration. It is a testament to the power of music to evoke emotion, inspire hope and remind us that with love and a shared vision, anything is possible. Thank you all for the wonderful support, let's keep flying and dreaming.
La melodía es progresiva y edificante, y refleja la naturaleza ilimitada de los sueños. La tonalidad de la canción, sol mayor, se asocia con sentimientos de optimismo, alegría y esperanza. La progresión armónica, caracterizada por acordes mayores simples, crea una sensación de familiaridad y comodidad, mientras que el cromatismo ocasional añade un toque de profundidad emocional. Su melodía vertiginosa, su letra sincera y su poderosa voz lo convierten en un himno inolvidable de esperanza e inspiración. Es un testimonio del poder de la música para evocar emociones, inspirar esperanza y recordarnos que con amor y una visión compartida, todo es posible. Gracias a todos por el maravilloso apoyo, sigamos volando y soñando.
---
---
I close my eyes and I can see
A world that's waiting up for me
That I call my own
Through the dark, through the door
Through where no one's been before
But it feels like home
They can say, they can say it all sounds crazy
They can say, they can say I've lost my mind
I don't care, I don't care, so call me crazy
We can live in a world that we design
'Cause every night I lie in bed
The brightest colors fill my head
A million dreams are keepin' me awake
I think of what the world could be
A vision of the one I see
A million dreams is all it's gonna take
Oh, a million dreams for the world we're gonna make
There's a house we can build
Every room inside is filled
With things from far away
Special things I compile
Each one there to make you smile
On a rainy day
They can say, they can say it all sounds crazy
They can say, they can say we've lost our minds
I don't care, I don't care if they call us crazy
Run away to a world that we design
Every night I lie in bed
The brightest colors fill my head
A million dreams are keepin' me awake
I think of what the world could be
A vision of the one I see
A million dreams is all it's gonna take
Oh, a million dreams for the world we're gonna make
However big, however small
Let me be part of it all
Share your dreams with me
You may be right, you may be wrong
But say that you'll bring me along
To the world you see
To the world I close my eyes to see
I close my eyes to see
'Cause every night I lie in bed
The brightest colors fill my head
A million dreams are keepin' me awake
A million dreams, a million dreams
I think of what the world could be
A vision of the one I see
A million dreams is all it's gonna take
A million dreams for the world we're gonna make
For the world we're gonna make
---

---
▶️ 3Speak
---
---