Music Video For Every Song On Cumbia Transmission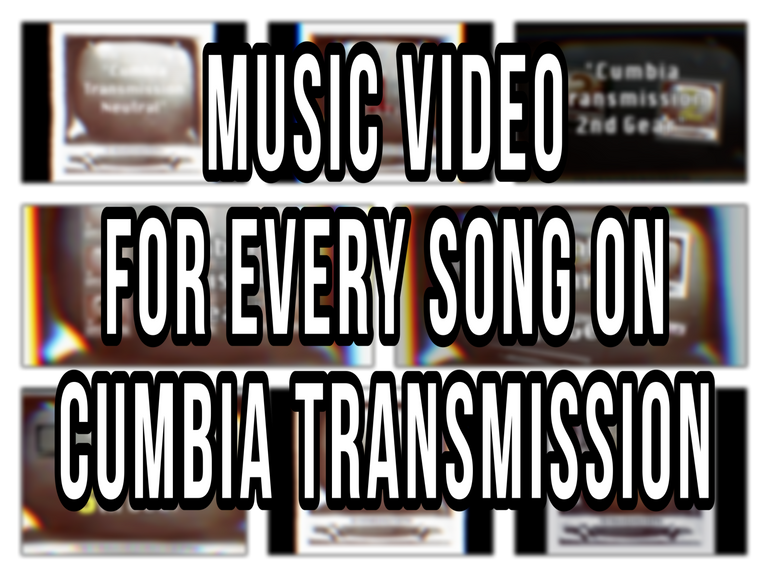 Like the title says, every song on the album will have a music video.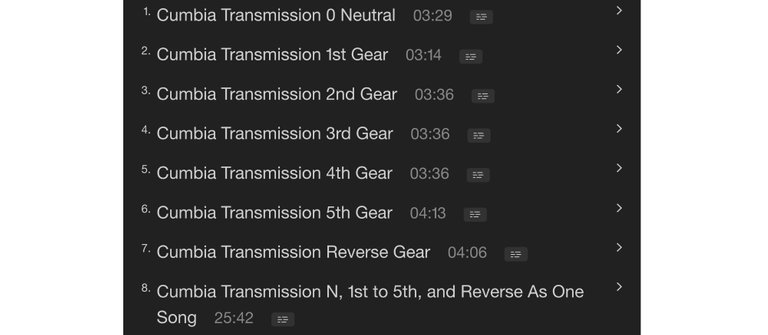 My computer hates this. My computers fan has been working hard to keep things cool. The hard drive has been bloated for a while.
Vidoe Editing
These videos are being created via Final Cut Pro.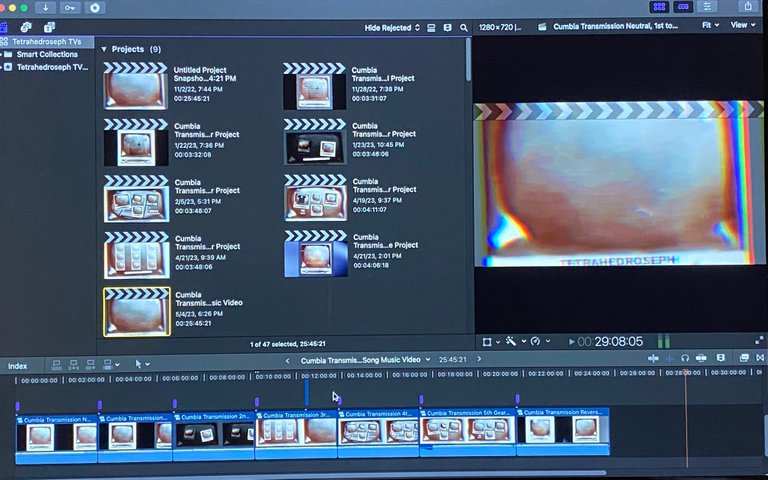 This project file is the biggest I've ever created. It's currently 196.14 GB. That's a lot to me. The average backup file for it is about 66.9 MB. Those backup files add up fast.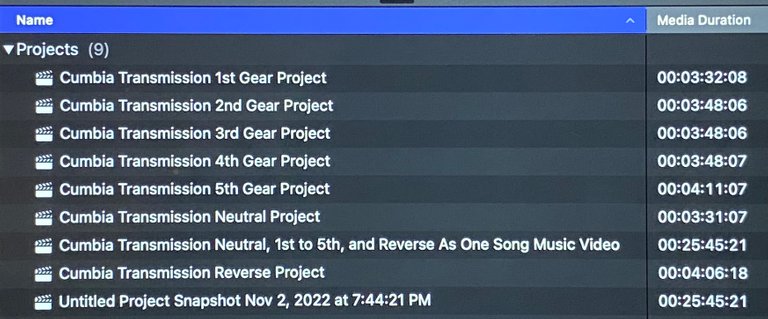 Final Cut Pro helped streamline much of this process. I could put multiple projects into one event and copy editing features from one project to the next video project.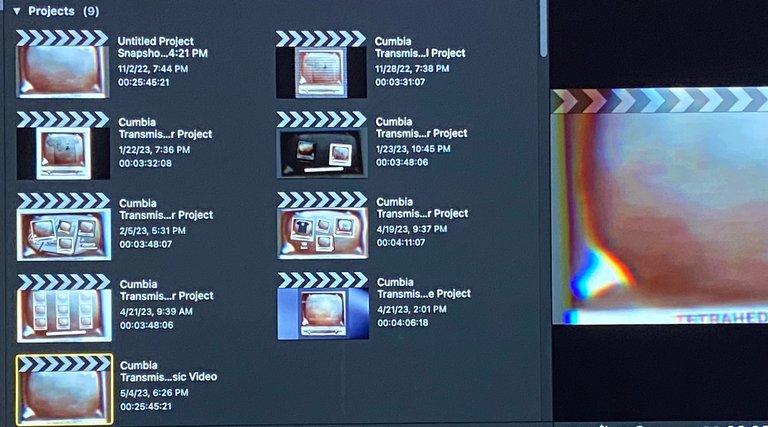 Task List
More often than not, art gets hindered by life/paying rent. Chasing money and sustaining livelihood makes one forget priorities. To cope with this reality, I created the check-off list seen below.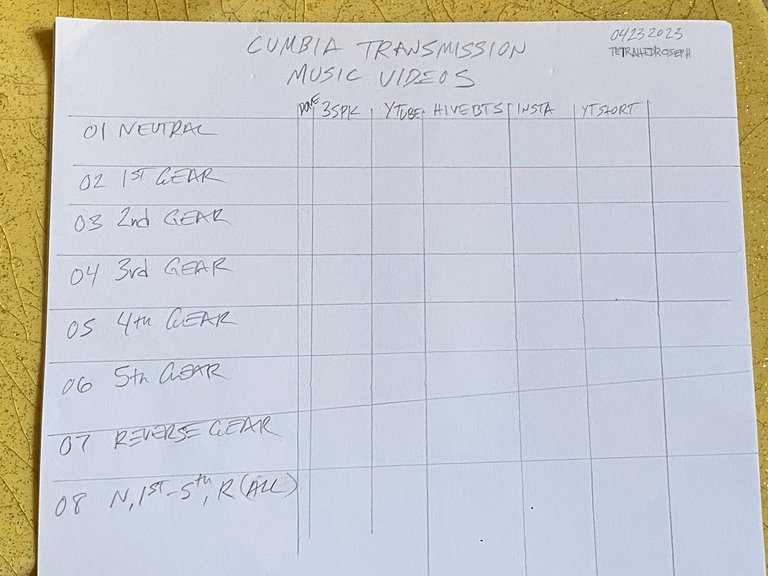 The list helps me keep track of what I've done and what needs to be done. It also helps me visualize a schedule.
Sneak Peek/Promo Video
Title Screens/Thumbnails
I created the title screens/thumbnail images all at once. These are simply screenshots from the music videos. Ever had a title screen thumbnail that didn't match the video's style or theme? Hopefully, me neither.

The GIF above features all the title screen thumbnails.
The blank TV screen is the only unfinished. I was tempted to leave it without. The video, it didn't have text of title screen at first. Yup, I was planning to leave the entire music video blank. It's the music video for the longest song on the album: Cumbia Transmission N, 1st to 5th, and Reverse As One Song
https://share.amuse.io/8YiVY-x89vUS
https://tetrahedroseph.bandcamp.com/album/cumbia-transmission?t=8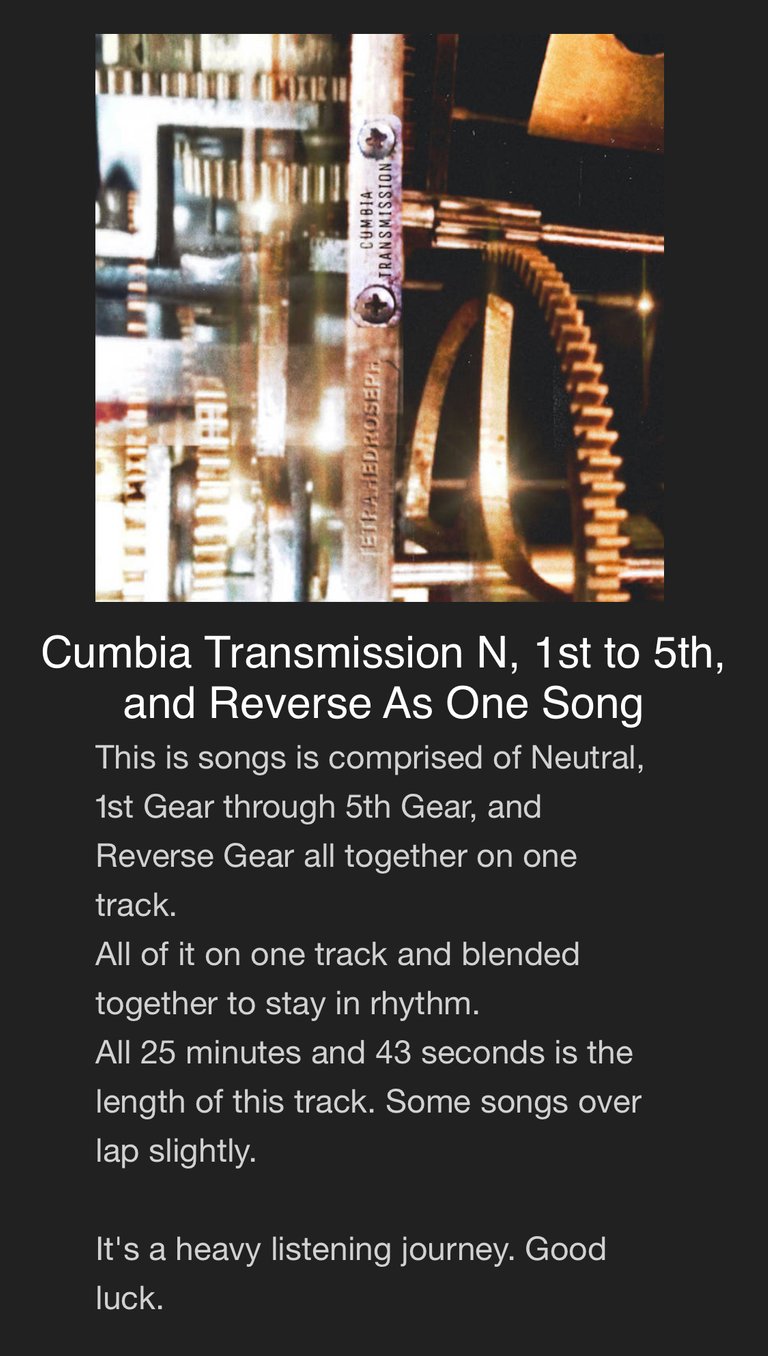 It was the easiest video to make for me, but not my computer. I did it really fast because I wasn't sure if my computer could handle it. I added text to it after all the other videos were done. I'm glad I waited. I'm glad I did all the other videos first because working on this one might've absorbed too much hard drive space and prevented completion of the others.
It's a relief to have this done early. In the past I would've used an app on my phone to create the images. PicsArt is in my phone and would have required a few extra steps. Streamline success.
I just remembered my recent Cavna rediscovery. If there is ever a time when screen shots won't work, i can use Canva on my computer.
Schedule
My current desire is to have each video publish biweekly. Accomplishing a large project like this, and having it spread out in a release schedule feels rewarding. It's a relief. A dream come true.
I'll probably have a schedule set up so that each video gets posted every other Sunday over the next two months.
I think I'm Done
Most Tetrahedroseph videos have links. These videos, not so much. Feels naked. Whether I'm done or not, I want to move the project file to the external hard drive.
Oh WTF, 5 DAYS!?!

I guess this event/project goes straight to the trash instead. I'll start a new event/projects if I decide to make more modifications.
I want to be done. I want to move on to the next album, "Cumbia Truck." I've already started working on it's song.
If you've read this far… or even scrolled this far, I'll tell you of a sneaky album cover preview. I added Cumbia Truck's album cove to the middle of "Cumbia Transmission N, 1st to 5th, and Reverse As One Song." Like, an easter egg.
Fan Video
This guy liked Cumbia Transmission he decided to make his own music music video. He put lyrics to it and called it, "Hot Date."
https://www.tiktok.com/@audioception/video/7219110552298081582?is_from_webapp=1&sender_device=mobile&sender_web_id=7229872389734614570
Show this homie some love.
Listen
Listen to Cumbia Transmission on Spotify, AppleMusic, Deezer, and YouTube with this link here: https://share.amuse.io/8YiVY-x89vUS
Listen to Cumbia Transmission on BandCamp: https://tetrahedroseph.bandcamp.com/album/cumbia-transmission
Listen on Audius: https://audius.co/tetrahedroseph/album/cumbia-transmission-1499378656


<iframe src=
https://audius.co/embed/album/ZR4Zqdq?flavor=card
width="100%" height="480" allow="encrypted-media" style="border: none;">
Thanks for reading and thanks for supporting.
Music: https://tetrahedroseph.bandcamp.com/music
Merch: https://tetrahedroseph.bandcamp.com/merch
Subscribe: https://tetrahedroseph.bandcamp.com/subscribe
Follow: https://tetrahedroseph.bandcamp.com/follow_me
Videos: https://3speak.tv/user/steemseph
Audius! https://audius.co/tetrahedroseph
Spotify! https://open.spotify.com/artist/1awYbp9GCzfrWUy4xQEI2M
YouTubeMusic! https://music.youtube.com/channel/UCy3xm5NY9YaWHqCbic59L7Q
SoundCloud! https://soundcloud.com/tetrahedroseph
Napster! https://us.napster.com/artist/tetrahedroseph
AppleMusic! https://music.apple.com/us/artist/tetrahedroseph/1535038059
Deezer! https://www.deezer.com/en/artist/109591832
Tidal! https://tidal.com/browse/artist/21673555
AmazonMusic! https://music.amazon.com/artists/B08KWJMRS2/tetrahedroseph

---
---