An AI Remix, Song for Woody Guthrie, and Tame Impala: Bit of a Wierd Mix for Three Tune Tuesday
Been a while since I've done a #threetunetuesday, but always like to join in for @ablaze and the other music lovers out there on ze Hive.
First of all, proud mama moment - my son's back doing his freelance music writing and if you're interested to see how my offspring writes like an angel (told you I'm a proud mama!) check out his article here on Kevin Parker of Tame Impala. Writing about music is hard, but my lad combines his love of music and the written word well. You might have heard of this song which is quite psychedelic with a killer bassline. You'd be forgiven to think it was written in the 1960's.
Dad messaged me this week as he does when he's listening to music and wants me to listen to a song. Last week he was saying that he had to say that Bob Dylan was his favourite artist of all time. Big call - Dad listens to a lot of music and varied as well - it's not as if he's stuck in the 1960's. Jamie reminded him of the time he was forced to go see Dylan with the family and he was absolutely shit and we all left early. It made us laugh - no way was Jamie going to ever like Dylan. I have a soft spot for him I guess as I grew up with him. The song Dad chose this week was this one. It's so beautiful and nostaglic. He wrote it as a homage to Guthrie of course. The cadence of the song is based on a song by Guthrie, 1913 Massacre. Like Guthrie before him, Dylan certainly did a beautiful job of capturing America. These lines kill me:
Hey, hey Woody Guthrie, I wrote you a song
Bout a funny ol' world that's a-comin' along
Seems sick an' it's hungry, it's tired an' it's torn
It looks like it's a-dyin' an' it's hardly been born
Now this one just totally freaks me out. It's not a song I've ever really liked though I used to love Soundgarden and saw them live back in the early 1990's, as I did Nirvana. Vale Cobain and Cornell. It's an AI version of Kurt Cobain doing Black Hole Sun. What. The. Actual. Fuck. Let's just say it again - this is an AI version, not the real thing. The comments are interesting - some people absolutely love it, as if Kurt's been brought back to life, but most argue it's more Cornell in feel. I don't know how I feel about it. I don't like it - in the same way deep fake creeps me out.
It just feels wrong and I wonder whether these two heroes of grunge would be rolling in their graves or whether they'd find it a hoot. To be honest, I think Cobain wouldn't be that enamoured with the whole idea. It feels manipulative and decietful. But, imagine a few of them having a jam together. Now that'd be something. Image below by Midjourney, of course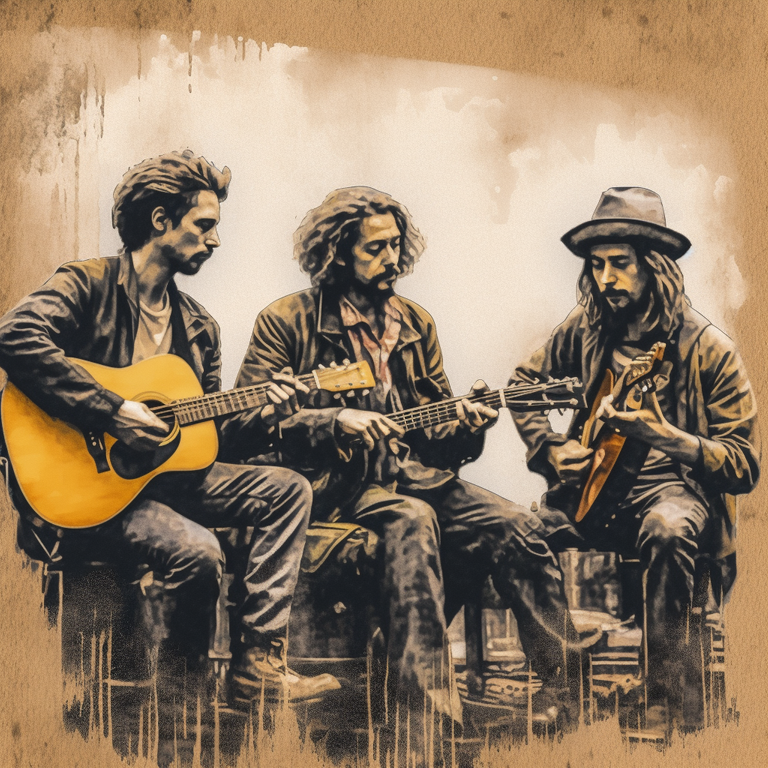 What have you been listening to this week? What do you think of AI remixes?
With Love,

Are you on HIVE yet? Earn for writing! Referral link for FREE account here




---
---