Hive open Mic week 153 - Hurt (Johnny Cash Version) - Cover

---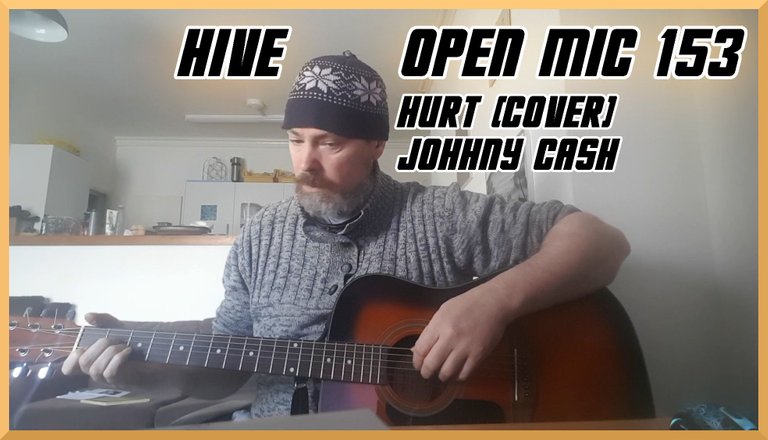 As I said in the introduction to this cover, some people might think me completely crazy to cover Hurt (originally written and performed by Trent Reznor of Nine Inch Nails) with the theme of this week's Hive Open Mic 153 as Tú Estás Conmigo (in English: "You Are With Me.").
There is no other time when I want my friends with me than at these times of loss, and although there is a strong overtone in the song Hurt (and there has been a lot of debate) whether the original artist Trent Reznor was writing about the loss incurred by, and caused to others, by drug addiction, the Johnny Cash version speaks to me of loss of a loved one, rather than loss of self.
It is literally the tune I play when I need a cathartic release, and it got me through the hardest loss I ever had to deal with when my best friend died eight years ago of alcoholic-related blood poisoning. It was Johnny Cash's version I always play and was trying to emulate in my cover.
So, I'd like to say to anyone else out there who has lost a loved one, or is morning right now "I Am With You." I hope that through Hive we can reach across national divides, oceans and whole continents so that anyone reading or listening to this song can feel: You Are With Me, as I am with you!
It is a universal truth that we all grieve, and we all need support in this grief.
I'm sorry to be so depressing... I shall try to come up with a more upbeat song for the next time I submit a song to hive open mic 😅
I include both YouTube versions of the original by Nine Inch Nails (which does contain a curse word) and the Johnny Cash cover which Trent Reznor praised for its "sincerity and meaning", adding "that song isn't mine anymore".
I can't pretend to have done justice to either version.
I find it impossible to play the guitar and sing together while keeping my voice in tune. This is why I had to split the lyric audio and guitar before splicing them together in DaVinci Resolve video editor.
This was just my attempt to let out some of the hurt that I've felt the last two months with some more friends passing away, and maybe Tú Estás Conmigo (you are with me).
Thanks for reading 🌿
All photos and media design used in this post is my own.
Camera used: Samsung S7 Smart Phone.
To see me perform on-screen please visit my YouTube channel Mainly Poetry.
To hear more of my poetry please visit my SoundCloud channel Mainly Poetry.
I would also like to give a big shout-out to @stickupboys (because they asked me to tag them) and also for inspiring me to try my guitar-based busking once again on hive.
The last time I performed in the open mic we were still all posting to that suspect @ned owned network steemit rather than hive. If you want to check out the only other entry I ever made here is a YouTube version of an Irish folk Ballad called Shanagolden – an Irish folk song which is basically a love song from a widow to her deceased soldier husband, killed in the ancient wars against the English.
Skip to 1.09 to go right to the song without any intro.

I hope you enjoy/ed the music boys… after watching your entry I can see we're on a whole different level. I.e. I'm the busker you see on the street and think 'dude, maybe think about another line of work' and you guys are real musicians 😂
---
▶️ 3Speak
---
---