ThreeTuneTuesday - The Financial Crisis So Far in Music

Hello Hive Music Lovers!,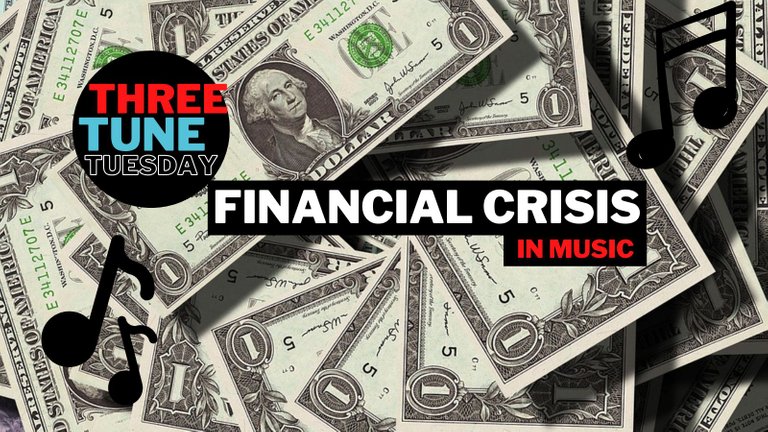 This week I cover the current financial crisis but in music. I tried to cover it in 3 tunes but I have actually 6 tunes instead of the allowed 3, but the story needed 6. I also must say, I don't read any mainstream news or watch TV, so this is just my interpretation of the crisis based on what I have picked up on Threads/Twitter/Nostr/Hive/Discord. 😅
So, the crisis seemed to start when the central bankers and their friends decided to initiate a cost of living crisis.
We started noticing this when we went to the shops and although they were saying inflation is 10% on the TV, prices were actually up 50-60% in the shops. Someone was lying and of course, it was the Pinochios on the TV. Jessie J reminds us of living before without worry about the price tag of everything and if the price has doubled again this week.
We now need to work extra hard to get some money to pay our (higher) bills. Although the best things are life are free, we still need it to pay our bills as The Flying Lizards sing here.
We then heard that the banks have been creating more money from thin air and are insolvent once the interest rates increased. This leads on to the second part of the plan by central banks to create CBDCs and try to enslave us with their new dirty cash as sung by Adventures of Stevie V.
Things do not look good and it seems we may have some Hard Times ahead of us as sung by Baby Huey. Not to be phased, by collapsing banks and the upcoming great reset, people have been buying as much crypto as they can to escape the centralised, unending inflation by central and commercial banking.
Bitcoin duly surged, flying high against fiat and 2023 is slowly becoming known as the year of the maxi. Greenpeace, the state controlled green propaganda agency decided to jump in on the action by trying to guilt bitcoiners into giving up their crypto but it was adopted as a cool Skull of Satoshi icon and welcomed into the community.
Not long after some millionaire was betting $1m that Bitcoin will moon within the next 3 months causing a fervor amongst Bitcoin Maxi's on Nostr. The question is currently open if it will be like Talking Heads say, a Once in a Lifetime opportunity or will the central bankers win?
Who knows, but I keep stacking!
---
The winner from last week's 200 FUN token giveaway was @lisamgentile1961 who's favorite Beatles song was Twist and Shout which was a cover version they recorded and a really good tune! Congratulations!
---
WIN 200 FUN TOKENS GIVEAWAY
For a chance to win 200 FUN tokens, all you need to do is write in the comments your favorite crypto. The winner will be drawn randomly and announced next week.
---
Happy musical Tuesday everyone, thanks for listening.

Credits:
The linked videos are not owned by me, I am sharing just the link to the copyright owner's video. No copyright infringement is intended.
Used under fair-use section 107 of the Copyright Act 1976.
The title image was created in Canva by myself using a photo by Geralt on Pixabay.
---
---