ThreeTuneTuesday - G-Eazy and Halsey

Hello Hive Music Lovers!,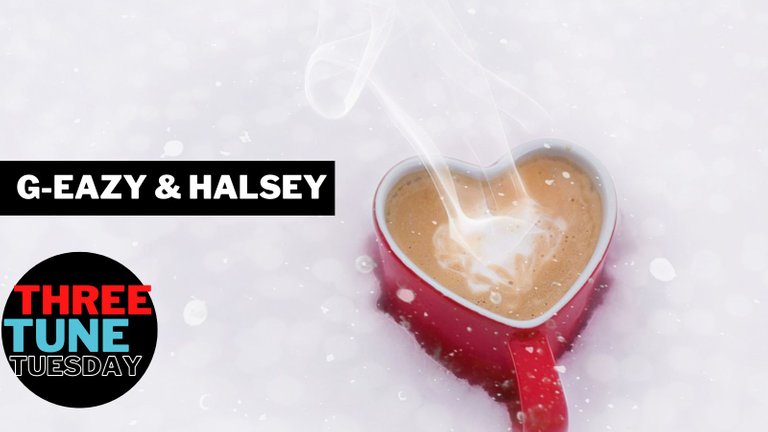 Today is St. Valentine's Day, so I have selected 3 of my favorite tunes from the great G-Eazy and Halsey. I would not normally listen to this music but when I saw the videos and heard the tunes, I became quite touched by this pop couple.
The songs I have selected follow their relationship together from the past up until now. The names of the songs and lyrics seem to really tie into the relationship theme too.
The first song is G-Eazy on his own and this is before he met Halsey. He seems tormented by life pressures and what he wants. If only he had a great girl like Halsey to occupy his mind and think of romance instead of life stresses.
The second tune is when they both met each other and they made the music video when they were in NYC together. You can see how happy and in love they both seem. Would their love last forever or was it just lust? In the end, it is him & I as she sings.
The final song is now Halsey alone as she has broken up with G-Eazy and he is "Without Her". It is a really nice pop song but makes me feel a bit sad that G-Eazy and Halsey are no longer together. They looked like such a great couple.
That was my Valentine's Day selection, I am sorry that there is no happy ending. I am still always thinking if they would get back together and are having a good Valentine's Day despite their breakup.
Happy musical Tuesday, thanks for listening.

Credits:
The linked videos are not owned by me, I am sharing just the link to the copyright owner's video. No copyright infringement is intended.
Used under fair-use section 107 of the Copyright Act 1976.
The title image was created in Canva by myself using a photo by JillWellington on Pixabay.
---
---