WADE IN WATER A VERSION BY THE SPIRITUALS| AN ACOUSTIC COVER

---
WADE IN WATER A VERSION BY THE SPIRITUALS| AN ACOUSTIC COVER
---
Hello Music Lovers, How are you all doing, I hope all is going well. As always, it is an opportunity to be back here in this beloved community of Talents and Opportunities to present to you a song that I enjoy so much and for me, is inspiring and historical.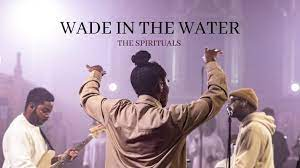 In essence, I am going to present a song known as Wade in the water, has become very popular amongst African Americans so much to the extent of being a traditional song. A lot of artists have rendered their version of the song, so I will present the version by a famous Choir known as the spirituals.
So, when I picked "Wade in the Water" to present, I was like, "This song is legit!" It's got that old-school vibe that never gets old, you know? The lyrics and tune just hit you right in the feels and make you think about the struggles our ancestors went through.
But this song isn't just about the past. It speaks to us right now, in our own lives. It's a reminder that we all face challenges, and we gotta support each other. It's about finding strength in unity and standing together no matter what.
Choosing "Wade in the Water" was a no-brainer for me. It's more than just a song. It's like a time machine that connects us to our roots and makes us think about the world we want to create. It's a call to action, urging us to be resilient and fight for what's right.
So, let's groove to this timeless jam, bearing in mind that we can wade through any water that comes our way and come out stronger on the other side.
I HOPE YOU ENJOY IT AS MUCH AS ME!!
Here is the Version of the Spirituals
THANKS FOR YOUR PRESENCE 💖💖💖
---
▶️ 3Speak
---
---