Hive Music Festival - Week 18 - Round 2 | Talking to the Moon - Bruno Mars
---

🎵 Hello Music Lovers 🎙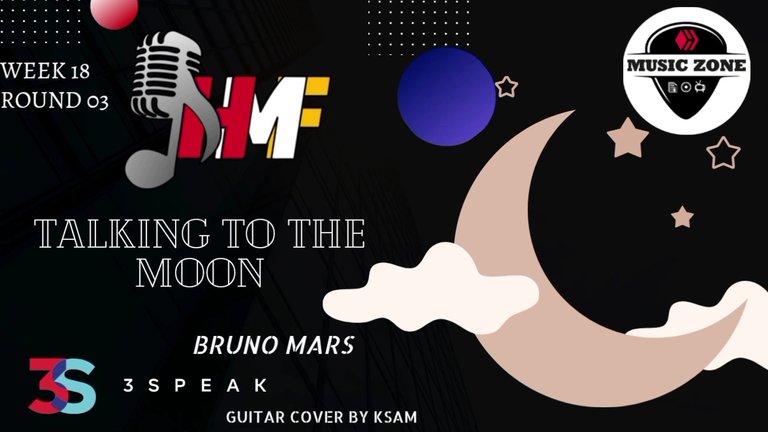 Hello everyone, it is another week on Music Zone community with our unique Hive Music Festival event, week 18 round 03.
Less than 18 hours ago, I was blank in terms of the choice of song to play for the week. This happens to me each time I have to pick a song to present for the week, especially when you have to choose 2 to 4 songs to present in the different musical Communities on Hive. Most times I ask some of my friends for song suggestions, sometimes I end up playing the songs suggested, and other times their suggestions inspire me to play another song. This week wasn't an exception, I was also stuck, but inspired by a friend's suggestion.
For this week, I chose to play Bruno Mars' Talking to the Moon. For those who don't know, I'm a Bruno Mars fan. I went to his song catalogue to check out the song that I haven't played for the festival, and that was how I selected this song for the week.
I see "Talking to the Moon" as a song that speaks about one who cannot get over a failed relationship. The protagonist of the story (in the music) does not believe the reality he is facing at the moment; a reality without his loved one, the one whom he considered as all he had, his Everything. He is also hopeful that she feels the same way he feels, and would one day come back to him. Although, there is no guarantee that this will happen, except in his dreams.
Sometimes when we get deeper in love with someone, it becomes very difficult to move on when heartbreak happens or when the relationship fails. Building a strong relationship takes a long time, but when the relationship is broken it is very difficult to fix, although not impossible. That's why it is important that we be bear this in mind while building a relationship because heartbreak might occur, and when it does how will you react to it?
Will you move on? Will you keep sulking all the rest of your life? Or will you go to the extreme end of committing suicide? (Well, the last option happens when people have toxic understanding of love)
I hope you enjoy this piece.
You can check the lyrics here

---
Logo Collage property of: Hive, Music zone, Hive Music Festival, 3Speak and Ksam
Image designed using Powerdirector and Canva.
---
I AM KSAM
---
Ksam is a "uniquely creative" Hive lover who combines his musical, writing, linguistic, video and audio editing skills to promote creativity and ideas in the Hive Community.(should I include humour?)
---
---
▶️ 3Speak
---
---