💛💙❤️ We Won the Latin Grammy! | Eng-Esp | ¡Nos Ganamos el Grammy Latino! 💛💙❤️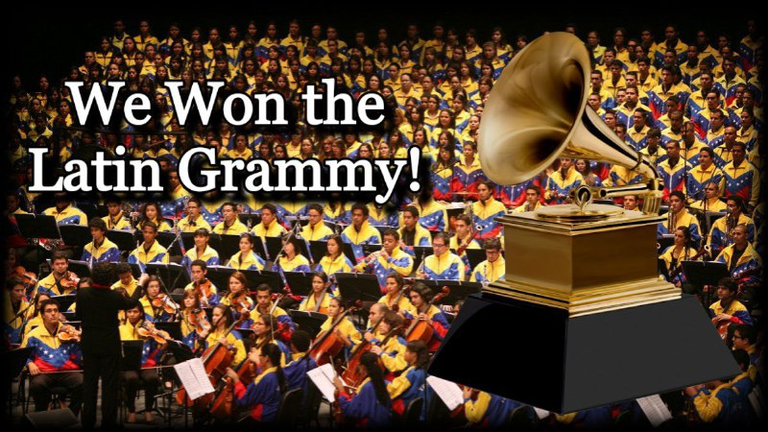 Last night Miss Venezuela did not win the Miss Universe crown, but it has been a great week for our country because the Latin Grammy Awards took place in Spain and many Venezuelans have taken home the trophy... I am happy to say that we musicians of the Sistema de Orquestas y Coros have also entered the long list of winners of this prestigious event. So I want to start this post with the moment when the album The Four Elements is announced as the Best Classical Album 2023:
Anoche Miss Venezuela no se llevó la corona del Miss Universo, pero igual ha sido una gran semana para nuestro país porque se llevó a cabo en España la entrega de los Premios Grammy Latinos y muchos venezolanos se han llevado el trofeo a casa... Me alegra decir que nosotros los músicos del Sistema de Orquestas y Coros también hemos entrado a la larga lista de ganadores de este prestigioso evento. Así que quiero comenzar este post con el momento en que se anuncia el álbum Los Cuatro Elementos como Mejor Disco de Música Clásica 2023:
Best Classical Album 2023
A couple of weeks ago I shared with you the joy of winning the Pepsi Music Awards here in Venezuela, you can read that post here to complement this story. I can't show you pictures of us with the trophy yet, I think it will take a while for everyone involved to appreciate it, as it is in the hands of the composer, the great man who received the award at the event, Maestro Huascar Barradas and we involved too many musicians in the project such as the Simon Bolivar Symphony Orchestra and my beloved choir.
Hace un par de semanas les compartí la dicha de haber ganado en los Premiso Pepsi Music, aquí en Venezuela, pueden leer ese post aquí para complementar este relato. Todavía no puedo mostrarles fotografías de nosotros junto al trofeo, creo que pasará un buen rato para que todos los involucrados puedan apreciarlos, ya que está en manos del compositor, el gran hombre que recibió el premio en el evento, el Maestro Huascar Barradas y participamos demasiados músicos en el proyecto como la Orquesta Sinfónica Simón Bolívar y mi amada coral.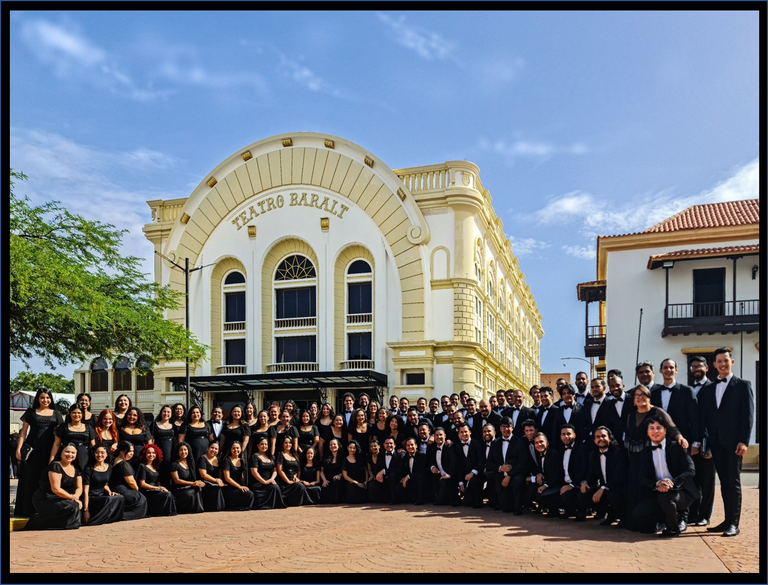 Coral Nacional Simón Bolívar en el Teatro Baralt, Maracaibo
This photograph at the Teatro Baralt was a wonderful day, we closed the national tour and that night was spent in the swimming pool, as I told a few days ago in the #Tbt community, all this three days before returning to Caracas and recording the winning album.... I said it before and I repeat it to be clear hehe, despite celebrating the joy of having my name in the credits of this album and therefore of everyone involved in this award, really my voice does not appear, because as I told you in my previous post, the day we were recording my dad's accident happened and I had to leave the magic of the recording process, I knew practically nothing more about the album until we were nominated a couple of months ago, my mind was somewhere else, but the surprise was much bigger for me, because I did not expect it.
Esta fotografía en el Teatro Baralt fue un día maravilloso, cerramos la gira nacional y esa noche la pasamos en la piscina, tal y como conté hace unos días en la comunidad #Tbt, todo esto tres días antes de volver a Caracas y grabar el disco ganador... Lo dije antes y lo repito para estar claros jeje, a pesar de celebrar la dicha de que mi nombre esté en los créditos de este álbum y por ende de todos los involucrados en este premio, realmente mi voz no aparece, ya que como les dije en mi post anterior, el día que estábamos grabando ocurrió el accidente de mi papá y me tuve que salir de la magia del proceso de grabación, prácticamente no supe más nada del álbum hasta que fuimos nominados hace un par de meses, mi mente estuvo en otro lado, pero la sorpresa fue mucho más grande para mí, porque no me lo esperaba.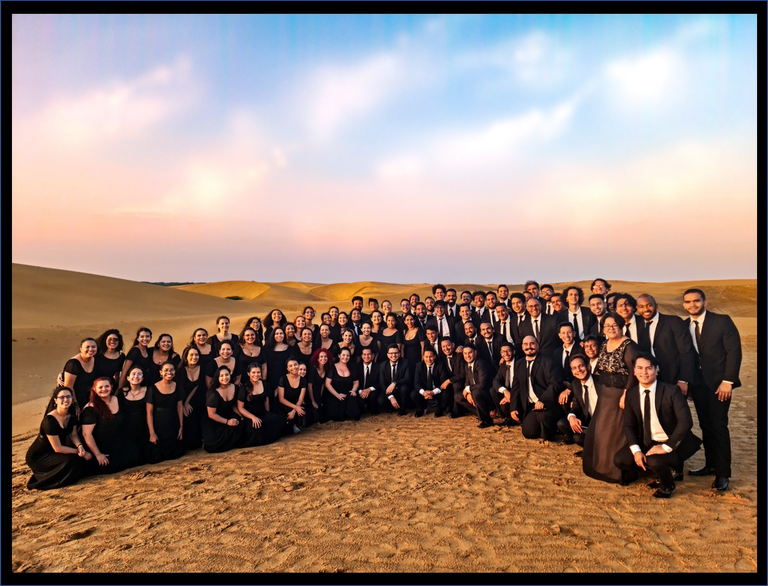 Coral Nacional Simón Bolívar en los Médanos de Coro
This week we love Huascar Barradas, as a good leader, musician and composer he gave credit to everyone involved in the project, there in Spain, in front of so many artists, in front of my beloved Shakira 😍 the Coro Nacional Sinfónico "Simón Bolívar" (our name when we make music with the orchestra) was mentioned and is part of the history of the Latin Grammy. Great things are definitely coming for this group that every day gives me more emotions and that helped me so much in my grieving process, it is impossible not to feel part of something important and of something that exalts the name of our country in the world, and every day I tell myself that it is here and in my family where I should focus my energy, on people and activities that nourish the soul. I already left you the Youtube version of the album Los Cuatro Elementos in my previous post, but I'll share it with you again at the end, but first I want to leave you with some happy Venezuelan music to keep you in this vibe of emotions, performed by us, the Simón Bolívar National Choir... Viva Venezuela!
Esta semana amamos a Huascar Barradas, como buen líder, músico y compositor le dio crédito a todos los involucrados en el proyecto, allá en España, frente a tantos artistas, frente a mi amada Shakira 😍 el Coro Nacional Sinfónico "Simón Bolívar" (nuestro nombre cuando hacemos música con la orquesta) fue mencionado y es parte de la historia del Grammy Latino. Definitivamente vienen grandes cosas para esta agrupación que cada día me da más emociones y que me ayudó tanto en mi proceso de duelo, es imposible no sentirse parte de algo importante y de algo que enaltece el nombre de nuestro país en el mundo, y cada día me digo a mí mismo que es aquí y en mi familia donde debo enfocar mi energía, en personas y actividades que nutren el alma. Ya les dejé la versión de Youtube del álbum Los Cuatro Elementos en mi post anterior, pero se los vuelvo a compartir al final, pero primero quiero dejarles música venezolana alegre para seguir en esta vibra de emociones, interpretada por nosotros, la Coral Nacional Simón Bolívar... ¡Viva Venezuela!.

---
---