Afri-Tunes week 47 - Winning by Sinach (cover) by @jessicaossom

---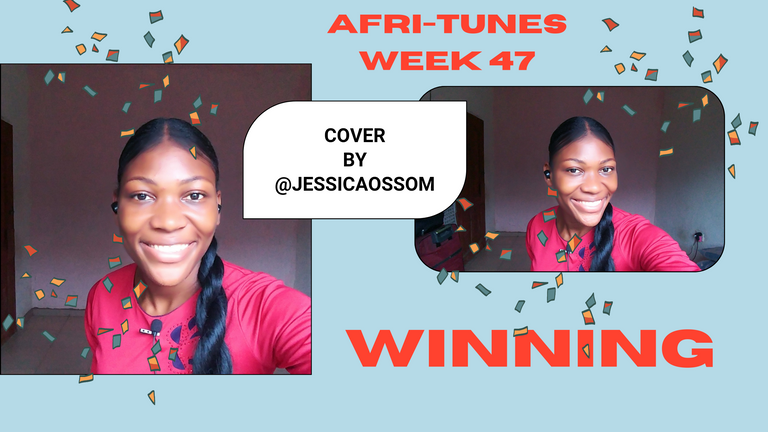 Greetings to my Afritunes people, I hope this post will meet you all well. This is another opportunity for me to share with you all a wonderful song titled "Winning" by Sinach.
As I mentioned in the video, there are times in our lives when it feels like we are losing everything and are not sure what to do. The song provides words of encouragement and hope, reminding us that we are all winners if we stay focused and hold on to our faith. It also reminds us that even when it seems like we have lost, we can still find a way to come back and ultimately be victorious.
My message today is that we should have faith, even though negative things are happening all around us, and speak positively about them.
Remember that there is power in the tongue. Say to yourself that you are winning no matter what comes your way. When you say it, make sure you believe it.
There is an update in our nation in which POS agents now charge you 10% for whatever amount you want to withdraw from them. For instance, if you need to withdraw ₦10,000 from the POS, the agent will charge you ₦1,000. That's crazy.
The CBN has extended the deadline for phasing out old Naira notes as well. I also read that the CBN is planning an initiative in order to speed up the circulation of new Naira notes.
According to the president, the sudden change in currency is not aimed at us ordinary citizens, but at those in power hoarding illegal money.
There are lots of things happening in the nation today. However, whilst all these things are going on, some say that there are some unscrupulous people who are making things more difficult around the country. This is for their own selfish benefit.
Despite everything that has been happening, I encourage you to remain hopeful and know that the challenges we face in this country will not bring us down.
Imagine if you start paying a thousand naira to withdraw ten thousand naira from POS agents. It's not nice to think about it, let alone imagine it happening.
It is well with us all, and it is well with this nation. We are winning.
The instrumentals of the song were gotten through the Moises app.
The image used on this post is mine and edited.
Through the fire, through the storm

I will stand in your word
Jesus my victory, Jesus my song
You are my victory, you are my song

---

▶️ 3Speak
---
---