🎵 Community Concert | Hive Open Mic 162: "Be Okay" [ENG/SPA]

Hive Open Mic ( #openmic ) is a global community working for world peace through a love of live music. Each week is a new invitation to express and connect.
Hive Open Mic ( #openmic ) es una comunidad global que trabaja por la paz mundial a través del amor por la música en vivo. Cada semana es una nueva invitación a expresar y conectarnos.
🎵
Hive Open Mic 162
Community Concert / Concierto Comunitario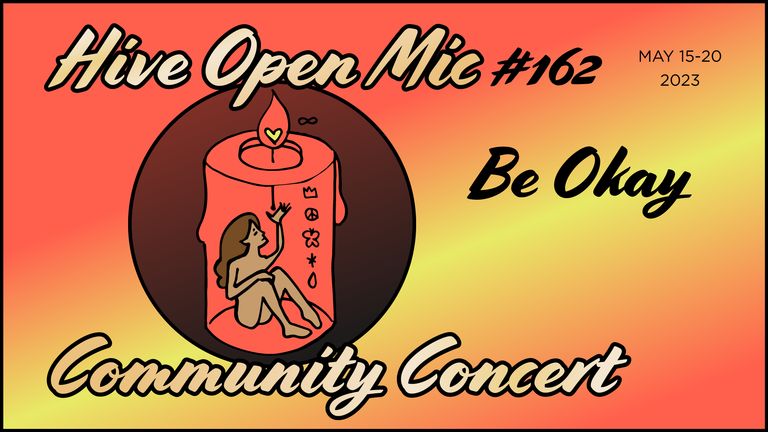 A special greeting to all Hive Open Mic musicians and friends of our community. We gather again in this Community Concert where we highlight our Radiant Gems, welcome new members and choose a new Spotlight Artist in charge of defining one of our future themes. We invite you to enjoy this summary of the great moments of the last edition.
Un saludo especial para todos los músicos del Hive Open Mic y amigos de nuestra comunidad. Nos reunimos nuevamente en este Concierto Comunitario donde destacamos a nuestras Gemas Radiantes, damos la bienvenida a los nuevos miembros y elegimos a un nuevo Artista Spotlight encargado de definir una de nuestras futuras temáticas. Los invitamos a disfrutar de este resumen con los grandes momentos que nos regaló la última edición.
"Be Okay" was the excellent theme of the week given to us by our sister @maryjacy. It was very well received in the community and it was shown through the high participation of the community members; let's start this Community Concert with her video:
"Be Okay" fue el excelente tema de la semana que nos regaló nuestra hermana @maryjacy. Tuvo muy buena acogida en la comunidad y se demostró a través de la alta participación de los usuarios; Comencemos este concierto comunitario con su video:
Into The Sea (cover) by @maryjacy
View the Original Post
This week's Spotlight Artist in action 🔥🔥🔥... welcome Mary Jacy to your week, it's so great to see and hear you with your positive energy and a great message to share!!!
Without a doubt our well-being depends on many factors; being well deserves that we take care of our body, our mind and our spiritual connection with the environment, so only in this way we can move forward in a healthy way in any circumstance.
When we talk about our faith, it is simply empowering our power to pray and connect with God, because as you say, as long as we leave everything in His hands, everything will be okay 🙏❤️!!!!
I want to congratulate you for your perseverance, motivation and for your growth in Hive, please continue to grow, you have a lot of potential and today you show it with your presentation.... good job dear friend 🌹💖!
I thank you for being with us in this week where being well is the slogan 💞.... I loved the song 🙌😀💛.... You Rockkk!!! 👍😉🔥🎙️🎸🎶❤️🌟🥂💥💫💯 - @fernanblog .
Friend @maryjacy it was a pleasant pleasure to listen to you, you have a powerful and beautiful voice and you leave us a great message in your presentation such as never losing faith and always trusting in God despite the adversities we are going through. God has better plans for us and they are all perfect. I loved your entry. Blessings and have a happy weekend 🙏👏👏👏🌹😊🌺🤗 🎤🎤💚💛🧡💕 - @nellynohemi.
Yes love, though it's hard, focusing on God and the right things at our most down times shapes most of our life that's why it's really important we do.
This rendition was heart-touching dear and encouraging. Thanks for being amazing always 🤗❤ - @sekani

🌟
New Spotlight Artist / Nuevo Artista Destacado
We are pleased to announce @jasperdick as this week's featured artist. As a token of appreciation, we invite you to choose a new theme to inspire musicians in our 169th week - congratulations! We invite you to choose a theme to guide us as we explore new territory as artists. Just nominate it in the comments below, and that's it!.
Nos complace anunciar a @jasperdick como el artista destacado de esta semana. Como muestra de agradecimiento, la invitamos a elegir un nuevo tema para inspirar a los músicos en nuestra semana 169. ¡Felicitaciones!. Te invitamos a elegir un tema para guiarnos mientras exploramos nuevos territorios como artistas. ¡Solo nomínelo en los comentarios a continuación, y eso es todo!.
Cakewalk into Town (cover) by @jasperdick
View the Original Post
Always amazing brother! You are so right about the blues, it is always a good companion for sad moments, but I already know some with this atmosphere of good vibes that you share with us here. Bravo man, it's a great sound with your voice, the guitar and even the whistles... - @jesuslnrs
That made me smile. Great little song - @purplesinger.
Super cool to contrast your presentation with the original theme. The sound of the tuba caught my attention in the original. Your presentation stands out for being fresher and more recent. Congratulations Jasper. Excellent performance. - @yisusth.

🔥
Bright Newcomers / Recién Llegados Brillantes
Mampirlah Dengar Doaku (cover) by @renataparna
View the Original Post
It's in the Hive Open Mic community and it's an honour to have you WELCOME😎! We hope to see you always here, we are looking forward to seeing what you will present to us in the future weeks. - @musicandreview .
Oh! I know the English version of this song, and it's nice listening to it in your language. And you sang so well. Nice rendition, I Love the way you sing. - @maryjacy.
Friend @renataparna you have a very sweet voice and your performance has been very good.
Hugs from Venezuela - @osomeltrozo.

💎
Radiant Gems / Gemas Radiantes
Landslide (cover) by @mobbs
View the Original Post
That sounds stunning!! Well done!! - @jasperdick.
What a beautiful cover, well done! Hopefully, you will join hive open mic more often :) - @celticheartbeat.
You Are The Reason (cover) by @sholex94
View the Original Post
I love your interpretation and how you used the week's theme.
You sing so well as always.
Kudos dear. - @jmis101.
It is always good to coincide with your participation brother. This has been one of your most passionate interpretations for our community and I think it is due to the values that are transmitted through these beautiful lyrics, bravo and thank you very much for sharing this song with us... - @jesuslnrs.
I use to love this song anytime I listened to it, and you performed so good with a cappella version of the song...Nice interpretation of the theme.
Kudos 💯 - @maryjacy .
---
Vivir Mi Vida (cover) by @yisusth
View the Original Post
Me encantó tu presentación amigo, excelente trabajo, me gusta mucho esta canción de Marc Anthony. Saludos y bendiciones! - @marifi.
Soy de la que opina que la felicidad son momentos!! Que hay que vivirlos al máximo y si es en familia y amigos o con gente que te llenan el alma mucho mejor, la vida es un viaje donde hay alegrías pero también donde hay adversidades, tristeza y hasta grandes perdidas que nos destrozan el corazón, pero la actitud es lo que hace la diferencia. Debemos vivir en agradecimiento hasta por lo malo nos da experiencia y verás como mejora nuestro camino por este plano, practicar el amor, perdón y regalar alegría y sonrisas y eso es lo que tú has echo aquí en esta presentación querido amigo @yisusth con esta canción, nos pusiste a cantar y bailar , sabrosooo como dice nuestro Oscar de León . Gran entrada como todo un grandioso artista que eres. Bendiciones y gracias por alegrarnos el momento. Lo disfruté 🙏👏👏👏👏😃🤗🌺🥰🎤🎤💚💛🧡💕 - @nellynohemi .
Siiii, fíjate que no se me había ocurrido este tema pero encaja perfecto con la temática, además de que amo a mark Anthony jajajaja
Mira yo creo que los Venezolanos somos el vivo ejemplo de los limones y de como hacemos limonada con lo que nos tocó, a diario luchamos para sobreponernos de tanta desidia y dolor, dando buena cara al mal tiempo. Espectacular tu interpretación maestro. 👏 - @mirel0510.
---
I Believe In You (cover) by @mhizerbee
View the Original Post
*Hi @mhizerbee, how are you?.. I like when you mention that it is one thing to be okay and another to believe that we will be okay; the first is based on our commitment to ourselves and the second on our spiritual relationship with God and what we expect from our day to day life.
We must always keep our energy in positive, our thoughts in positive and speak, feel, listen and see with the eyes of love... it is a difficult exercise but only this way we reach wisdom and we will be able to lead a worthy life since God gives us the perfect scenarios and moments to put this into practice 🙏❤️!!!!
The song you present to us is beautiful and I liked how you got it at all levels, the black and white editing I loved, that was very cool, nice job 🌹💖!!
My dear friend, remember that the source of the lyrics should not take me to Google as it is the search engine, the link should take me to a specific page where the lyrics are, could you accommodate it?
I congratulate you and thank you for joining us in this edition of the Hive Open Mic.... we wait for you next week again 🙌😀💛... You Rockkk!!! * - @fernanblog.
Beautiful entry my love💐
Jesus is indeed a wonderful Saviour who always make sure we are ok, no matter the trials and tribulations. - @emyekanem.
Beautiful rendition as always haunty 🥰
Yea, it's true that so many people are going through challenges and hard time. But, hopefully, we believe one day it'll be okay 🥰 - @ksam.

⭐
Acknowledgements / Agradecimientos
Today's curated concert presents a small selection of outstanding songs from various nations, skill levels, and musical genres. Numerous other live music performances can be enjoyed, beyond this concert. Our intention is to celebrate the excellent artistry, the supportive community involvement, and above all else: Global harmony is our mission.
El concierto curado de hoy presenta una pequeña selección de canciones sobresalientes de varias naciones, niveles de habilidad y géneros musicales. Además de este concierto, se pueden disfrutar de muchas otras actuaciones de música en vivo. Nuestra intención es celebrar el excelente arte, la participación solidaria de la comunidad y, sobre todo: La armonía global es nuestra misión.
Thanks goes to the OCD Community Incubation Program, who rewards our musicians with generous upvotes. Gratitude goes to every musician who expressed, plus every listener who connected through comments, upvotes, claps, and finger snaps. Thanks to all music lovers. May the harmonizing power of music generate peace around the world. So be it.
Gracias al Programa de incubación comunitaria de OCD, que recompensa a nuestros músicos con generosos votos a favor. La gratitud va para cada músico que expresó, además de cada oyente que se conectó a través de comentarios, votos a favor, aplausos y chasquidos de dedos. Gracias a todos los amantes de la música. Que el poder armonizador de la música genere paz en todo el mundo. Que así sea.
Behind the scenes, Hive Open Mic moderators devote extraordinary energy each week to listening, commenting, curating, and creating for this community. The moderation task is a big undertaking, led this week by @cabelindsay, @mipiano, @jesuslnrs, @musicandreview, and @fernanblog. This week, our community sees 4,208 subscribers and 221 active users, with 1,957 interactions and 1,365 pending rewards.
Detrás de escena, los moderadores de Hive Open Mic dedican una energía extraordinaria cada semana a escuchar, comentar, curar y crear para esta comunidad. La tarea de moderación es una gran tarea, liderada esta semana por @cabelindsay, @mipiano, @jesuslnrs, @musicandreview y @fernanblog. Esta semana, nuestra comunidad cuenta con 4,208 suscriptores y 221 usuarios activos, con 1,957 interacciones y 1,365 recompensas pendientes.

🌞
Invitation / Invitación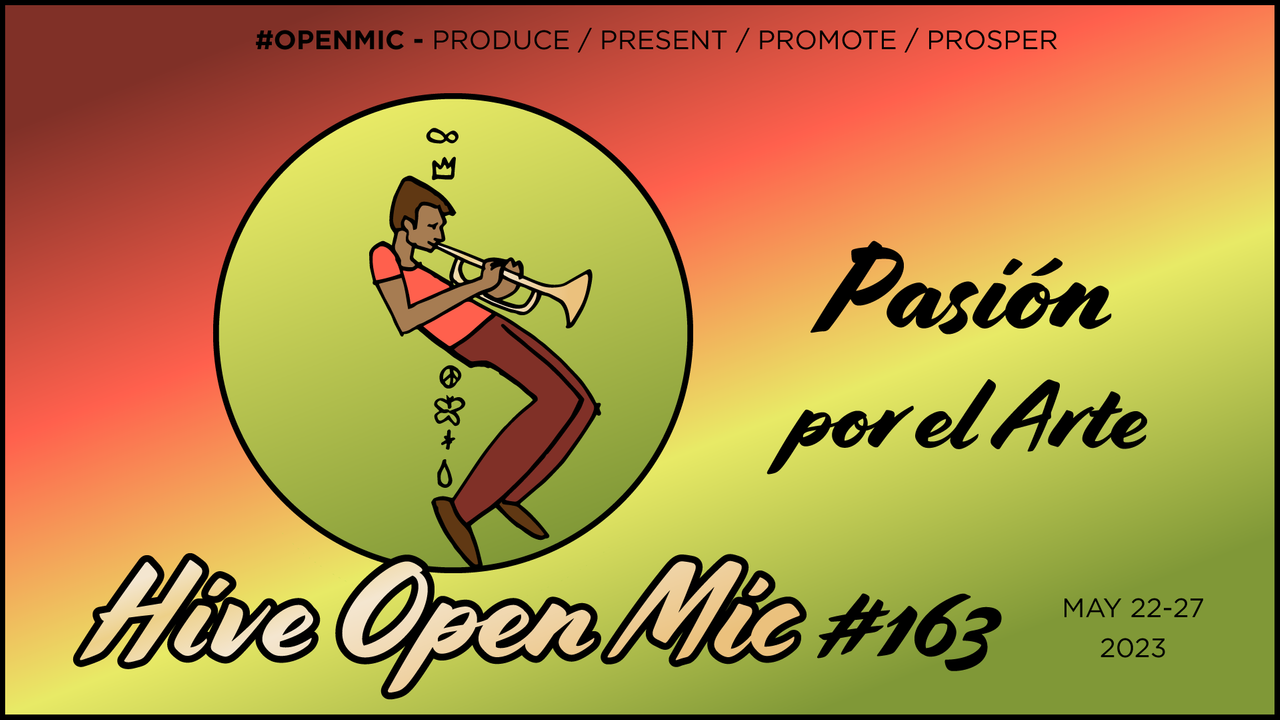 This week's invitation is: "Passion for Art." (Pasión por el Arte)

🌟
💛

Art by @cabelindsay | English Version by @mipiano | Spanish Version by @jesuslnrs | Edition by @musicandreview | Banner by @fernanblog
---
---