'Drift2.0' - New Original Music - A Rough Draft, WAY Too Chaotic and Disjointed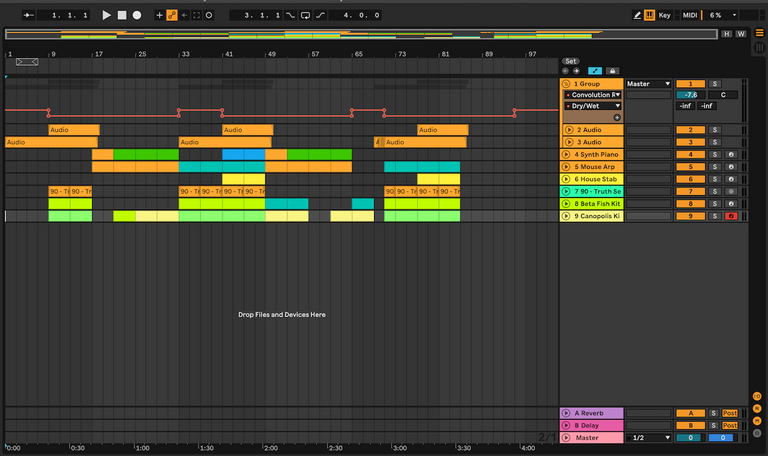 So I took yesterday's idea
and entirely removed the midi clips, and added other things and wound up with this. This is NOT a finished idea... in fact, I'm not sure I'd say its a single idea, its chaotic, unmixed and has probably 2 or 3 different basic song ideas in it hahah. So, I need to separate things, decide what I like and try and make this less insane and actually listenable. I had started with the Drift synths, though I didn't use presets, instead making my own sounds, recorded into Tracks 2 and 3. These both play arpeggios, with a heavy convolution reverb that basically sounds like a reversed delay. That effect is cool, but makes things suddenly SO loud, so I need to figure out if having that is worth it or not, we'll see. There's a B part, played by Tracks 4 and 5, which is more of a basic chord progression, and I dunno if it fits with the other stuff, but maybe. The drums in Tracks 8 and 9 are where a lot of the chaos is; these both use Thermal for various effects, including some glitchiness. I definitely have to spend time on the drums and try and tame this a bit, as its impossible to hear whats going on around them, as they're just so all over the place. Normally, I wouldn't share an idea that is this disjointed, but I figured it'd be a good place to start, and hopefully we can see how an actual song emerges from this, hehe.
---

Heavy Convolution Reverb, perhaps too much
---
---
Hope you enjoy... well, maybe not listening to it, but the general idea of it being complete chaos, haha...
---
---
---


⚔️ JOIN THE OFFICIAL SPLINTERLANDS TELEGRAM ⚔️
---
---