Stay with me (Cover) by Eugelys | Esp-Eng

---
Existen canciones que como cantante te subyugan, siempre están allí y van adquiriendo nuevos significados cada vez que las interpretas. Un día pueden hablar del mayor sentimiento de despecho y otros días, en cambio, nos traen otra lección de vida. Esos mismos acordes van escribiendo nuevas historias según el momento en que interpretamos una melodía.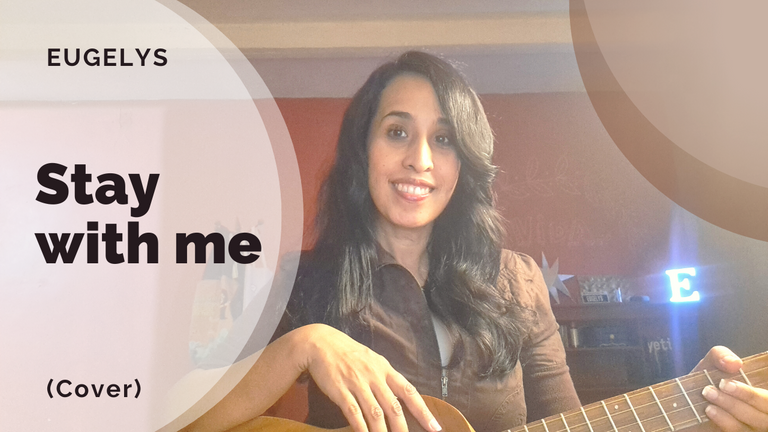 Hoy Stay with me significa para mí el hacer un llamado a la fe y la esperanza para que nunca me abandonen, es una manera de pedir que siempre se quede conmigo la verdad que da calma y serena mi ser. Que siempre pueda hacer oídos sordos a las necias palabras que pueda llegar a escuchar, que nunca me deje llevar por la muchedumbre, que siempre pueda ver los corazones más allá de los rostros, que me otorgue mucha paciencia y sabiduría, pues en ocasiones mis criterios distan completamente de otras personas que tienden a no ser realmente justos en su actuar y que muchas veces apoyan a personas que han llegado incluso a traicionarles.
There are songs that subjugate you as a singer, they are always there and take on new meanings every time you perform them. One day they can speak of the greatest feeling of spite and other days, on the other hand, they bring us another lesson of life. Those same chords write new stories depending on when we play a melody.
Today Stay with me means for me to call on faith and hope to never leave me, it's a way of asking that the truth that calms and soothes my being may always stay with me. May I always turn a deaf ear to the foolish words I may hear, may I never get carried away by the crowd, may I always see the hearts beyond the faces, may you grant me much patience and wisdom, because sometimes my criteria are completely different from other people who tend not to be really fair in their actions and who often support people who have even betrayed them.
Nunca antes había versionado esta canción con el cuatro y hoy me complace poder compartirla, es una melodía que tiene una triste belleza y es que las melodías tristes llegan a ser realmente hermosas. En el dolor también podemos aprender si sabemos sacar un aprendizaje de los malos momentos que llegamos a atravesar. Lamentable el no aprender nada de los instantes poco favorables que nos suceden nos deja en el punto de salida, no impide poder llegar a la meta. En muchas ocasiones basta con asumir nuestra cuota de responsabilidad ante el error y queda de nuestra parte asumirlo con la mayor madurez posible, solo aprendiendo de nuestras equivocaciones y sacando alguna lección de vida evitaremos repetirlas.
¡Espero que estén muy bien, recuerden que cada día tiene su afán, no se preocupen mejor, ocúpense en aquello que esté a su alcance y agradezcan mucho a la vida por los regalos que le ha dado!
I had never before covered this song with the cuatro and today I am pleased to be able to share it, it is a melody that has a sad beauty and it is that sad melodies become really beautiful. In pain we can also learn if we know how to learn from the bad moments we go through. Unfortunately, not learning anything from the unfavourable moments that happen to us leaves us at the starting point, but does not prevent us from reaching the finish line. In many cases it is enough to assume our share of responsibility for the mistake and it is up to us to assume it with the greatest possible maturity, only by learning from our mistakes and drawing some life lesson we will avoid repeating them.
I hope you are very well, remember that each day has its own purpose, don't worry, do what is within your reach and thank life for the gifts it has given you!
¡Un gran abrazo! A big hug!
Gracias por pasar por aquí, por detenerte a leer o a escuchar, por comentar, por votar.
¡Gracias por todo tu apoyo!
Thanks for all your support!
---
Stay with me/ Escrita por:Sean Combs / Mario Winans / Shawn Colvin / John Leventhal / Daron Jones / Quinnes Parker / Michael Keith / Marvin Scandrick, interpretada por Sam Smith/ Video: Samsung Galaxy A53/ Edición de Video: VideoPad /Edición de Audio: Audacity / Letra/ Portada: Canva Traducción: www.DeepL.com
---

---
---
▶️ 3Speak
---
---