Hive open mic 180 : Disney Radja band - Cinderella cover by @donirosayandi
---
Hive Open Mic 180 : "Disney" Radja - Cinderella cover by @donirosayandi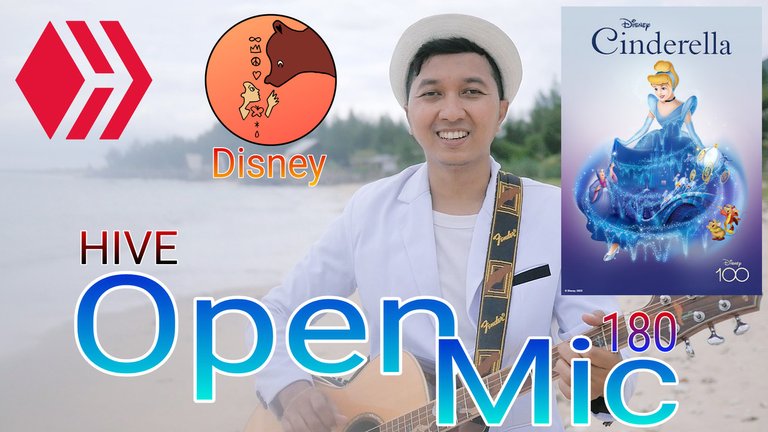 Hi Hivers, how are you all? I'm sure we're all fine. My name is @donirosayandi, I'm a guitarist. On this occasion I will sing for Hive Open Mic 180, explore the following theme: "Disney." This theme is chosen by our community's recent Spotlight Artist: @josueelinfame
For this week's theme I have prepared a good song, a song yang related to the theme, namely the song called "Cinderella", this song was popularized by Radja Band.
And when the "Disney" theme was spread for this week, I immediately thought of Radja's song, Cinderella is indeed one of the Disney characters who is popular throughout the world. This princess story tells of a woman who lives with her cruel stepmother and siblings. His life was very miserable because he was insulted, enslaved and tortured by his mother and half-brothers. One day the prince was looking for a princess who would become empress, until the prince found Cinderella. Finally, Cinderella lives happily with the prince in the palace.
Likewise with the lyrics of the song Cinderella which was popularized by Radja, which tells the story of a beautiful woman who lives through torment and torture. Then news came that the prince wanted to find the empress, so he attended the party
There is a story about a beautiful virgin
Life is always full of suffering and torment
News comes
About a party
Prince looking for his queen
Then a magical opportunity arises, Cinderella, aided by fairies, finally arrives at the ball and immediately attracts the prince's attention with her beauty and kind heart.
They both danced together, and Cinderella felt very happy.
However, she has to leave in a hurry when the bells signal midnight, leaving her glass slipper behind
Then the prince wanted to find Cinderella, so he started the search using the glass slipper she left behind.
He visited every house in the kingdom looking for a girl whose right foot would fit the shoe.
Cinderella arrives
By carriage
Glass shoes adorn her feet
All eyes were stunned
Will come
The prince falls in love with her
I think this song is a very relevant song to sing this week, this is what made me choose this song, because the song fits the theme of the 180th week of Hive Open Mic
Happy listening.
Below are the complete song lyrics.
Ada sebuah kisah
Tentang dara jelita
Hidup slalu penuh
Dera dan siksa
Datang sebuah berita
Tentang adanya pesta
Pangeran mencari permaisurinya
Cinderella pun tiba
Dengan kereta kencana
Sepatu kaca hiasi kakinya
Semua mata terpana
Akan kedatangannya
Pangeran jatuh cinta padanya
Waktu terus berganti
Dentang jam pun berbunyi
Cinderella pergi
Cinderella cinderella
Cinderella pun tiba
Dengan kereta kencana
Sepatu kaca hiasi kakinya
Semua mata terpana
Akan kedatangannya
Pangeran jatuh cinta padanya
Original song :

---
---