ATC - All Around the World (La La La) (Vocal cover by @carminasalazarte) [ENG/ESP]
---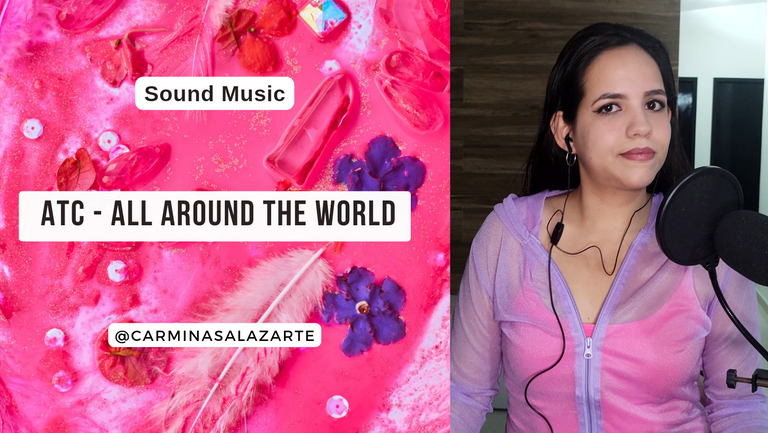 English Version
Hello to everyone in the Sound Music community! Today I bring you a new cover. This time it's the song 'La La La All Around The World' by the German group, ATC. From the Eurodance genre, this song was really successful in about 20 countries, especially in Germany and the United States. To this day it is still a quite recurrent theme in parties and discos as one of the most emblematic classics of the 90's and 2000's era. So let's remember a little.
The song belongs to the album 'Planet Pop' and was released in 2000. Surprisingly I discovered during my research that the song is actually a cover of the Russian singer Ruki Vverk and the song is called (in its country of origin) 'Pesenka'. One only has to take a look at the original song to notice the similarity of ATC. The German group changed the lyrics from Russian to English. Perhaps that is why its impact was greater than the original, because being in English it may be more meaningful to other English-speaking countries. With simple lyrics and a catchy chorus, we can be sure that it got more than one person dancing.
Finally my friends, I hope you enjoy the video and the song very much. As always trying to do the best job possible. I had some difficulties with the lyrics and had to record it several times to get a better take. Which as always is done alongside my partner,
@wilfredocav
, in charge of recording and editing the video. I send you a big thank you for supporting my work through your comments, votes and love. I appreciate it from the bottom of my heart. I leave you with the video and see you next time.
Versión en Español
¡Hola a todos en la comunidad de Sound Music! El día de hoy les traigo un nuevo cover. Está vez se trata de la canción 'La La La All Around The World' del grupo alemán, ATC. Del género Eurodance, está canción fue realmente exitosa en alrededor de 20 países, especialmente en Alemania y Estados Unidos. A día de hoy sigue siendo un tema bastante recurrente en fiestas y discotecas cómo uno de los clásicos más emblemáticos de la época de los 90's y los 2000's. Así que a recordar un poco.
La canción pertenece al álbum 'Planet Pop' y fue lanzado en el año 2000. Sorprendentemente descubrí durante mi investigación que la canción en realidad es un cover de la cantante rusa Ruki Vverk y la canción se llama (en su país de origen) 'Pesenka'. Basta con echarle un vistazo a la cancion original para notar la similitud de ATC. El grupo alemán cambio la letra del ruso al inglés. Quizás por ello su impacto fue mayor que la original, pues al estar en inglés puede ser más significativo para otros países de habla anglosajona. Con una letra sencilla y un estribillo pegadizo, podemos estar seguros de que puso a más de uno a bailar.
Finalmente amigos míos, espero que disfruten mucho del vídeo y de la canción. Cómo siempre tratando de hacer el mejor trabajo posible. Tuve algunas dificultades con la letra y tuve que grabarla varias veces para lograr una toma mejor. Que como siempre es realizado al lado de mi compañero,

@wilfredocav

, a cargo de la grabación y edición del vídeo. Les envío un fuerte y muchísimas gracias por apoyar mi trabajo a través de sus comentarios, votos y cariños. Lo aprecio de todo corazón. Los dejo con el vídeo y nos vemos en una próxima ocasión.
Lyrics/Letra
The kisses of the sun
Were sweet
I didn't blink
I let it in my eyes
Like an exotic dream
The radio playing songs
That I have never heard
I don't know what to say
Oh, not another word

Just -la la la la la-
It goes around the world
Just -la la la la la-
It's all around the world
Just -la la la la la-
And everybody's singing
La la la la la-
And now the bells are ringing
La la la la la la la la...

Inside an empty room
My inspiration flows
Now wait to hear the tune
Around my head it goes
The magic melody
You want to sing with me
Just -la la la la la-
The music is the key
And now the night is gone
Still it goes on and on
So deep inside of me
I long to set it free
I don't know what to do
Just can't explain to you
I don't know what to say
Oh, not another word

Just -la la la la la-
It goes around the world
Just -la la la la la-
It's all around the world
Just -la la la la la-
And everybody's singing
La la la la la-
And now the bells are ringing
La la la la la la la la...

The kisses of the sun
Around - around - around the world
La la la la la-
It goes around the world
Just -la la la la la-
It's all around the world
Just -la la la la la-
And everybody's singing
La la la la la-
And now the bells are ringing
La la la la la la la la...
Around - around - around the world
La la la la la la la la...

Credits/Créditos

Artist/Artista: ATC
Song/Canción: All Around the World (La La La)
Album/Álbum: Planet Pop
Year/Año: 2000

Music track used in the following source

---
▶️ 3Speak
---
---