Digimon Cover en guitarra Epiphone | by Andrewmusic
---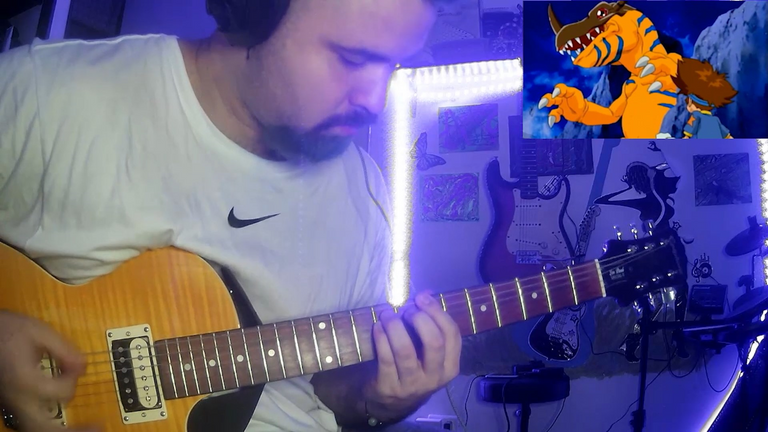 ---
English
Today I covered the Butterfly intro of the Digimon anime, it's quite known by many people in the world, but I did it because I saw it in a youtube video, I saw the tutorial and I thought it would be fun to do it for hive and platforms too from Internet.
I want to comment on a loose idea and that is that our hive platform is not going to grow if we focus only on publishing content here, that is, I think that the same content that we have already been doing can be done on other platforms with the aim of attracting the public and therefore , when there is a large number of people, who see all the work and then come to the hive platform, it is better if they are investors who stake their coins to give upvotes to the bloggers of the platform.
Spanish
Hoy hice el cover de la intro Butterfly del anime Digimon, es bastante conocido por muchas personas en el mundo, pero lo hice porque lo vi en un video de youtube, vi el tutorial y pensé que seria divertido hacerlo también para hive y para las plataformas de internet.
Quiero comentar una idea suelta y es que nuestra plataforma hive no va a crecer si nos centramos solo en publicar contenido acá, es decir, pienso que ese mismo contenido que ya venimos haciendo podemos hacerlo en otras plataformas con el objetivo de captar publico y por ende, cuando sea una gran cantidad de personas, que vayan viendo todo el trabajo y luego vengan a la plataforma de hive, mejor si son inversores que pongan en stake sus monedas para dar upvote a los bloguers de la plataforma.
---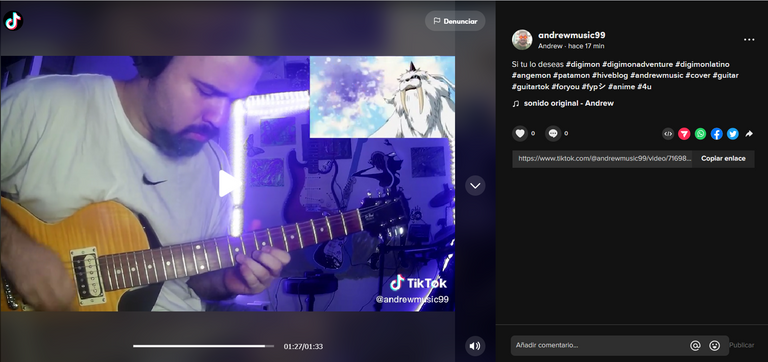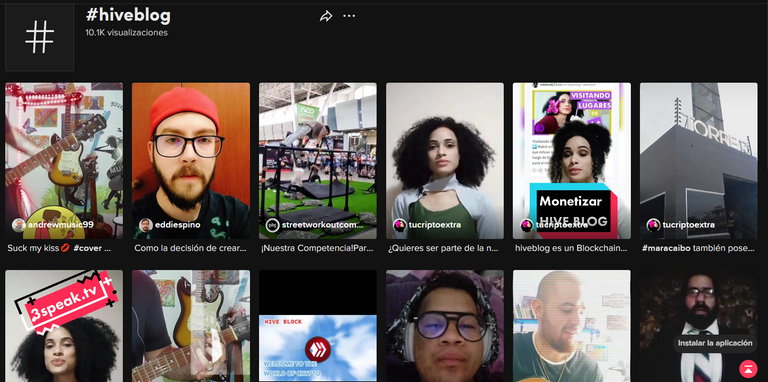 hash tag #hiveblog en tik tok
---
To give some context, I have been posting videos on tiktok with the #hiveblog, I have reached 81 likes on a specific video (the first left to right) and more than 4,700 total views among all 16 videos posted there, which which leaves a lot to the imagination because for example in 3speak I have only reached 3476 reproductions with 274 videos, I know that there is no point of comparison and that monetization outside of hive for content creators is very difficult and very low, so I think that The strategy of reaching other people on other platforms is valid, because ultimately those people outside of hive do not obtain 100% of the information from a post, that is, they do not see the process, they do not see the words that we write and that are only in hive.
Para dar un poco de contexto, he venido publicando videos en tiktok con el #hiveblog, he alcanzado 81 me gusta en un video en especifico (el primero izquierda a derecha) y más de 4,700 reproducciones totales entre todos los 16 videos publicados allí, lo que deja mucho a la imaginación porque por ejemplo en 3speak solamente he alcanzado 3476 reproducciones con 274 videos, sé que no hay punto de comparación y que la monetización por fuera de hive para los creadores de contenido es muy difícil y muy baja, entonces pienso que la estrategia de alcanzar a otras personas en otras plataformas es valido, porque finalmente esas personas por fuera de hive no obtienen el 100% de la información de un post, es decir, no ven el proceso, no ven las palabras que escribimos y que están solamente en hive.
---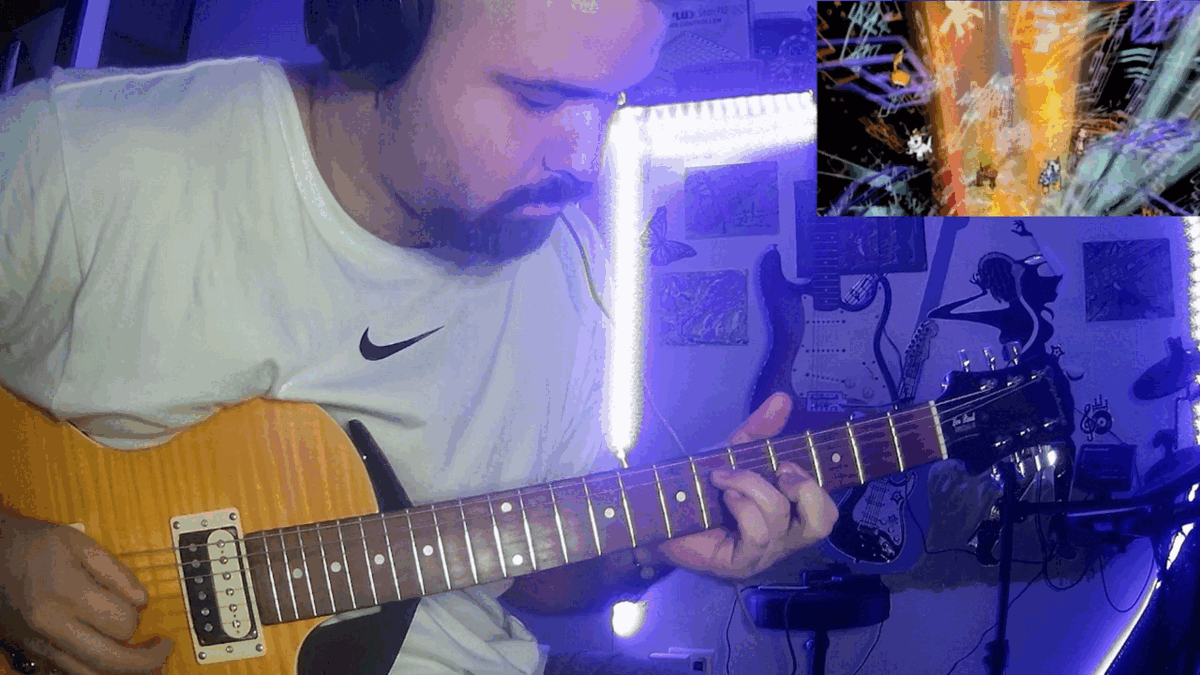 ---
---
Lyrics
Yo solamente quiero amarte
Y todo mi calor brindarte
Te haré olvidar esas penas que te hacen mal
Hay que dar el sentimiento y cada momento vivirlo
Te haré olvidar esas penas que te hacen mal
Con el amowowowor se puede siempre alcanzar lo mejor
Con el amowowowor los sueños que tengas se van a cumplir
Si tú lo deseas puedes volar, solo tienes que confiar mucho en ti y
Seguir puedes contar conmigo te doy todo mi apoyo
Si tú lo deseas puedes volar si tú quieres el cielo alcanzar
Y las estrellas tocar oh mi amor
Ya sé que te decepcionaron
El mundo soledad y llanto
Tu gran verdad enterrada en el fondo del mar
Decidieron engañarte venderte un mundo impresionante pero al final
Solo manda tu fuerza de amar
Es el amowowowor el que echara afuera todo el temor
Por el amowowowowor los sueños que
Tengas se van a cumplir
Si tú lo deseas puedes volar, solo tienes que confiar mucho en ti
Y seguir puedes contar con migo te doy todo mi apoyo
Si tú lo deseas puedes volar si tú quieres el cielo alcanzar
Y las estrellas tocar oh mi amor
Si tú lo deseas puedes volar
Solo tienes que confiar mucho en ti
Y seguir puedes contar conmigo te doy todo mi apoyo
Si tú lo deseas puedes volar
Si tú quieres el cielo alcanzar y las estrellas tocar oye
Si tú lo deseas puedes volar
Solo tienes que confiar mucho en ti
Y seguir puedes contar con migo te doy todo mi apoyo
Si tú lo deseas puedes volar si tú quieres
El cielo alcanzar y las estrellas tocar oh mi amor
---

---

-

-


https://linktr.ee/Andrewmusic

---
#music #livemusic #curie #ocd #posh #spanish #english #neoxian #mih #cervantes
---
▶️ 3Speak
---
---